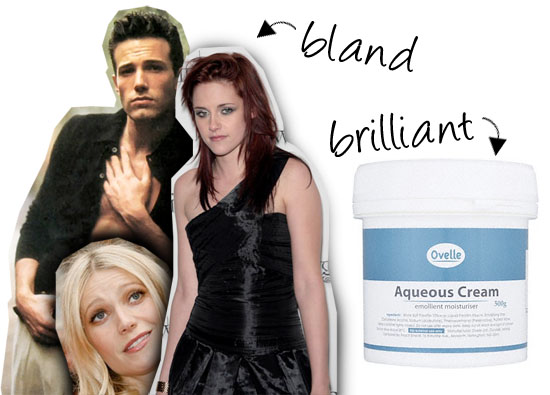 What do Ben Affleck, Gwyneth Paltrow and Kirsten Stewart have in common? Blatantly obvious – to me at least – is that they are all exceptionally dull. My point is that that bland sells - bare with me, ladies! The same applies to the world of beauty. Slowly and steadily, certain bland brands, like all-Irish pharmacy fave Ovelle, are doing a massive trade. What's more, unlike Twilight's lead 'personality', what Ovelle lacks in bells and whistles is made up for in pure quality – and the price doesn't hurt either.
Now, I know half the fun of girly products can sometimes be in the yummy scents and sweetshop colours – but I also know that many of us have skin that's just too sensitive for perfumes and glittery bits. In terms of value for money and kindness to skin, Ovelle and its offshoot line, Elave, make for a super steal.
Many of us already know Ovelle, without knowing it. Plain white tubs with industrial-chic (!) jade labelling translate to the type of unobtrusive product the eye always slides past. Their Aqueous Cream, at €4.18 for a massive tub, is my favourite ever skincare product: an emollient moisturiser, it is hard-core, soft white paraffin stuff.
Advertised
Effective enough for people with dry skin conditions to use, regular folks can also give it a whack as an excellent moisturising body wash and soap substitute. Another bargain buy is their 100g tub of solid Coconut Oil, €4.59. Great for dry scalp treatments (wash this out REALLY WELL!), it can also be used as a body moisturiser, or mixed with sugar for a lip scrub.
Elave is better known and popular for its shampoo, conditioner and cleanser, all in the region of €7. Although slightly more expensive than Ovelle, my favourite aspect of Elave is more to do with what's NOT in it than what is: their products are free from alcohol, lanolin and formaldehyde, to name but a few.
Giving your skin a break and supporting your own in one go – what's not to love?