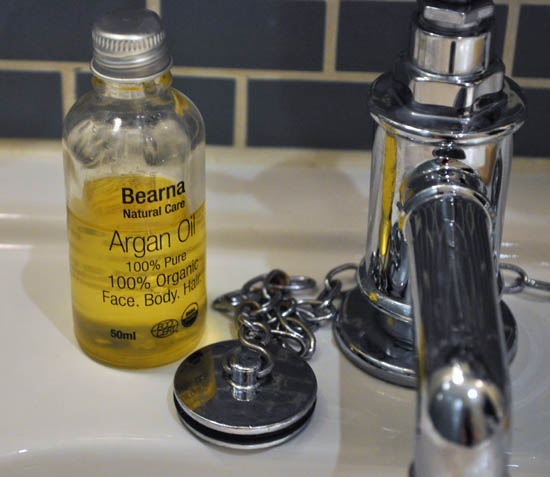 I often wryly note that just cos argan oil's often referred to as liquid gold, that somehow seems to translate into gold bullion-style price points. Happily, however, with this Irish-produced 100% argan from Bearna Natural Care, that's not the case: Bearna's Argan Oil is just €14.50 for 50ml, so interest was piqued when they asked us would we like a bottle to have an auld go of. Ah go on, we said.
Quality is ensured by the fact they use a source of Ecocert-certified argan oil sourced direct from a Berber women's co-operative in Morocco, and Bearna Natural Care don't add anything else except a bottle. No extra bulking ingredients, no preservatives, no nuttin'. They sell direct on their site (shipping is a further €3) so costs are kept down there too, and what you get for your cash is an unscented, high-quality dollop of this rather fantastic botanical oil.
Like lots of things in life, quality can fluctuate wildly across what's apparently the same ingredient - you'll know this if you're a keen cook and have experimented across the ranks of olive oils, for example. So, there's argan and then there's argan. This particular stuff seems to be of very nice quality. If you're not a fan of the often heavy unscented scent of oils - rosehip can be an offender - then this is very lightly smelly. I can hardly discern any hit off it at all, which is a plus.
Advertised
50ml is a decent quantity and the bottle has an (ugh!) orifice which isn't amazingly good at dispensing the liquid - you have to shake which isn't ideal. I'd prefer a dropper, but I can appreciate it's a cheaper packaging option and that helps with the eventual price. Plus it's better than leaving a large gaping top, which can lead to accidents - and tears.
This also works. And hey - that's what we mostly care about. It's lovely for use on skin, works excellently as a moisturiser solo; it can be mixed with a cream or layered over a serum; used morning or night. You get the picture - it's versatile. Out of preference I don't like to use neat argan on hair as I prefer it to be mixed with some silicones to sleek my frizz, so I'll go for a blend like that offered by Moroccanoil or VO5's Miracle Concentrate, but this can also be used on cuticles, hands, and body skin. It's great - once you start to use oils on skin you tend to find bajillions of uses for 'em.
For €14.50 plus a couple of extra quid for the postman, Bearna have made this a very decent bet.