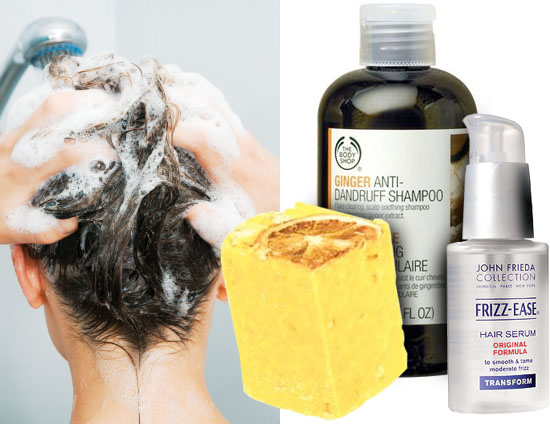 Redken, Shu Uemura, Kerastase: all these names send shivers of lovely, delicious, hair-related expectation down the spine of any beauty lover. It's a bit of a drag when these are a tad out of your price-range though, even with the considerable savings you can make via websites like FeelUnique*.
It can be all too easy to live by the 'whatever's in the cabinet' method – I myself have been known to wash the ol' gruaig with Lynx shower gel when no other soapy substance was available – and use the supermarket shampoo that's picked up in the weekly shop. This is generally cheaper, I grant you, but uninspiring; there is great haircare out there that IS affordable on a tight budget.
Anyone with blonde hair, dyed or natural, will know the brightening and conditioning benefits of camomile. The Blonde solid camomile shampoo from Lush, €7.45, smells delish and lasts aaaaaages, particularly if you cut the bar in two and store it in a dry place.
Lush is surprisingly great for blondes – Marilyn and Coolaulin are fab conditioners. Lucky brunettes among you will fawn over the Jungle solid conditioner, €7.45, to add even more shine to what is naturally the shiniest hair colour.
Advertised
For those of you with dry hair, you can't get much better than Trichomania, also €7.45 from Lush. Packed with the coconut oil I'm always harping on about, this is a super and very conditioning shampoo.
Dandruff sufferers should try Ginger Anti Dandruff Shampoo, €9.75 from the Body Shop; the ginger root and organic honey are great anti-fungal fighters and make a nice change from the coal-tar smell of many scalp treatments. Meanwhile, those with oily hair could do worse than Lush's Jumping Juniper shampoo, €7.45.
Curly girls, particularly those with thick hair, cannot beat the preservative-free Curly Wurly shampoo, €14.85 from Lush. A bit more expensive, but you're on to a winner here.
For extra loveliness, I swear by any of John Frieda's Frizz Ease products: at around the €7 mark, they're often part of the 3for2 offers in Boots, so keep an eye out!