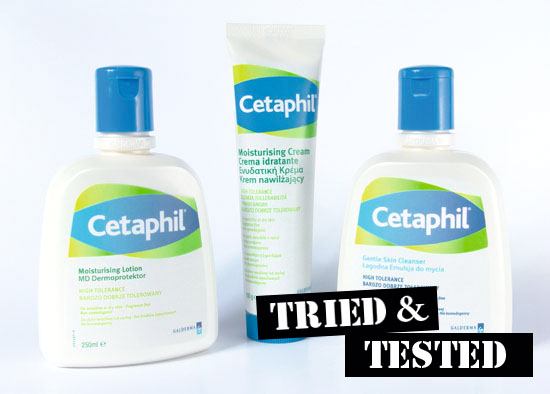 It is common knowledge on the blather that I am one of the thousands of scaly people – 2% of the world's population, 3% of Ireland's – who have psoriasis. As such, I am super careful about what products I use and give preference to natural ingredients, as anything can cause a flare up of my delicate skin.
When I was sent cleanser and moisturisers from Cetaphil, I have to say I gave a "Squeeeeee!" of delight that is usually reserved for sparkly nail-varnishes and the delish Robert Sheehan. This soap-, fragrance- and lanolin-free line is also non-comedogenic, meaning it's rich and lush without being a pore-clogger. Specifically recommended for people with common skin conditions, this means that using it even on damaged skin is not a problem. Yay!
The giant Gentle Skin Cleanser, €14.86, is a daily, non-drying, 250ml product which is effective at removing makeup, a major weakness of a lot of gentle facewashes. Now, I loved Clarins' Daily Energizer foaming gel, but as a rule, cleansers with water dry out my skin. The star talent of this super stuff is that it can be used with water or without. I use it with water for heavy duty makeup or alone for everyday – and always tone with rosewater.
Advertised
The Moisturising Lotion, €14.86, packed a punch again at 250ml. Although I used this on my face and neck, it is suitable for the body too and would probably be great for people without skin conditions. It is quickly absorbed and left my skin feeling lovely and sleek, almost as though I had applied a primer. You only need to use a tiny bit too.
Lastly, the Moisturising Cream, €17.11, is the most heavy-duty of the three products. I used this as body moisturiser even when my skin was itchy as hell and it calmed it down and actually left it soft, which I can NEVER say. My skin drank it up; I would bathe in this stuff.
All the usual, subjective skin condition disclaimers apply here: my mum's best friend's son might swear by mud from the Dead Sea, but all it gave me was the aroma of the River Lee at low tide. It's all trial and error, it all depends on your own skin concerns - so with that in mind, go forth and moisturise!