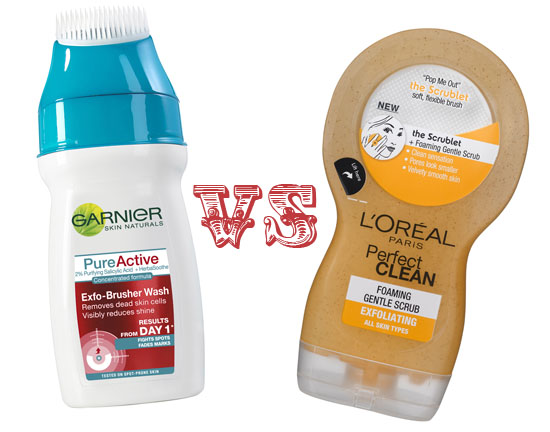 Blackheads. Ugh – really, is there a beauty-related word more mank-tastic than blackheads? One of my all-time least favourite Beaut.ie blather confabs was centred around those of you who seem fascinated with de-gunking the clogged pores of loved ones.
I am plagued with blackheads and exfoliating scrubs usually don't do the job for me, meaning that I fall victim to every product promising merciless manual extraction of the vile things. There seems to be a – forgive the pun – breakout of scrublet-topped cleansers on the market at the minute, so I pitted two against each other in a typically scientific endeavour.
Garnier Pure Active Exfo-Brusher Wash, €6.26, promises to remove dead skin cells and visibly reduce shine for the be-blackheaded among us – yada yada, I can even hear the Davina McCall-esque voice from the ad as I type. Now, I have dry skin – yada yada, you say! – and yet am very prone to spots, meaning I don't fit into either of the typical 'oily=spotty, dry=notty' camps.
Advertised
The 2% salicylic acid in this formula, however, shifted my flaky, dead skin and revealed a new, smooth, lovely layer beneath. It also promises to fade marks, which my face has in abundance (probably from all my prodding and poking at spots and blackheads). Although I haven't been using it long enough to see if it delivers on that promise, I have high hopes. The nifty thing about this product is that the cap twists open to release the gel and then shuts to facilitate mess-free buffing with its 170 soft flexi-bristles. I am well chuffed, ladies.
Perfect Clean Foaming Gentle Scrub, €6.25 from L'Oreal Paris, aims to do a similar job. Nicely peach-scented, this watery gel is a bit messy, as you have to apply it separately to a soft rubber brush before using it on your face. I really liked the combo of gentle exfoliating formula with supple scrublet, as the two combined did a good job without being causing irritation – no St. Ive's sandpaper effect here! Had I used this alone, I would be more impressed, but Garnier's salicylic acid means the former pipped L'Oreal Paris to the post.
Still, needless to say, both are great value for money.