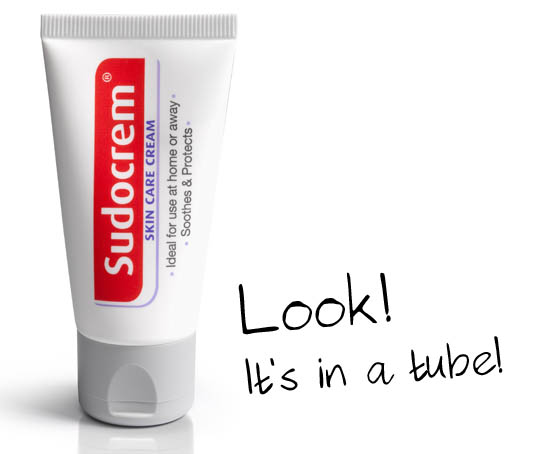 Tweeting idly as I watched my one of my fave episodes of South Park (the one where Cartman makes chili from Scott Tenorman's parents; almost as good as the one where Mrs Cartman gets him trained by Cesar Milan - actually I have too many favourite episodes of South Park to count), on Friday evening, I Twitpicced a shot of the new tube of Sudocrem.
Sudocrem. In a tube! Could such a wonder be? Yes, and for just €2.15 at chemists and supermarkets, this convenient, handbag sized convenience can be yours too, ladies. I wasn't really prepared for the deluge of tweets that came back, to be honest.  Though I guess I should have been: after all this stuff won best zit-zapper at our recent Best in Beaut.ie Awards so we clearly love it to bits. The press release that came with my sample tube informed me that the 'Crem is also an Irish Product.
I. Did. Not. Know. That.
Advertised
Yes, made in Baldoyle for 80 years, this stuff is beloved of Irish mammies and I defy anyone to say they don't have a tub of it in their bathrooms. I now have a tub AND a tube. So I polled Beaut.ie's Twitter followers for their most funny and bizarre uses of Sudocrem. Some of them, well, I feel they may not have been entirely truthful:
@debbiedoo_doo  face mask! I was 8yrs old in fairness
@gingerlady  teeth whitener
@BronaghWalsh  love bringing it on hols & using it on EVERYTHING !! 100% Irish :)
@etienneshrdlu You can use a dab of it in coffee if your UHT frigidaire has run dry
@dudara after a bad taekwon session, I would cover my feet in Sudocrem and put on socks for the night
@DeeLightful77 used it on my new piercing to help them heal quickly
@feefurs Best Sudocrem use was using as a 'foundation' + setting powder of white Baby powder- pretending to be sick to get a day off school
@Ellen__oh Ellen  midget bites? Stops itching :) (this one made me laugh so hard)
@BubbleBrother I use it on crackers sometimes if I've run out of 'Philadelphia'
Interesting! So - we know you've got more best uses for the white stuff: leave a comment and spill the beans!