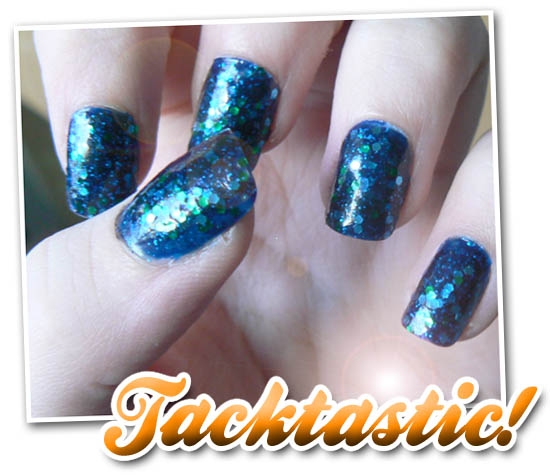 I was a bit anxious about contributing this post. I have a healthy fear of my fellow Beaut.ie readers, seeing as you're quite a stylish-non-word-mincing-bunch. The fact of the matter is, I have a guilty pleasure.
It probably goes without saying, seeing as they are photographed here in all their square and shimmery glory – but my guilty pleasure is my big fake nail habit. Not just that, they've got to be coated in some acid bright or eye-catching glitter. Currently, I have a few coats of the bargain-tastic Blue Addicted by Essence, €1.29, on there in all its Deborah Lippmann Across the Universe dupe-based glory.
I like them to be terribly long, square and impractical. I have no idea what I enjoy about tacky talons. I just feel a bit fancier with them, even though I know most of you are giving side-eyes to your computer screens.
Slag you might, I know I'm not alone. Everyone I know has a guilty pleasure; a few shades too far with the self tanner, a heavier hand than needed with the blusher or going a few inches too high with the brow pencil. I think most of us have something that we know wouldn't feature on the front cover of Vogue but that makes us feel more dolled up.
So, go on, don't say I'm the only one – what's your guilty beauty pleasure?
Advertised
WANT EVEN MORE GUILTY SECRETS?
Occasionally we confess our sins to high priestess Estee Lauder (RIP). In these posts we dish on all the god-awful sins we have committed (wipes usage, spot picking, brow plucking till they bleed etc) - and you lot dish as well. Oh they're juicy auld reads:
Get Beaut.ie Delivered
Stay updated with Beaut.ie newsletters full of the latest happenings at Beaut.ie as well as great offers and things we think you might find interesting .