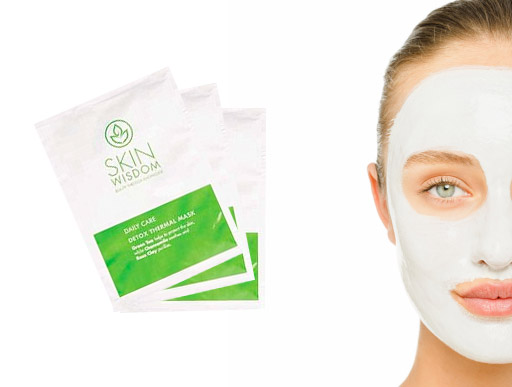 I'm a big fan of good supermarket beauty buys, but until last week the Skin Wisdom range from Tesco had somehow escaped my trolley dashes. On the go since 2001 and relaunched last year with snazzy new packaging and formulations, Skin Wisdom is a paraben- and oil-free zone. And there's a real beauty heavyweight behind it: Bharti Vyas is one of the UK's leading holistic beauty therapists. So I was happy to give a sachet of the Detox Thermal Mask from the Daily Care line a whirl last week.
This is essentially a clay 'n' mud mask that promises to deeply cleanse skin, neutralise excess oil and draw out impurities. It's a light pink, thick cream which is applied to a clean, damp face and heats up on application. I found the warming effect soothing (not to mention nice and toasty!) and when I rinsed the mask off after the recommended five minutes, I did feel that my pores looked distinctly less crater-like and my skin felt clean and soothed rather than tight. This is a nice product that does what it says on the tin at a very reasonable price.
Advertised
Oh, and there's enough in the single Skin Wisdom sachets for at least two doses, so you can get even more bang for your cheapy bucks by getting the Sellotape out and resealing it after the first use!