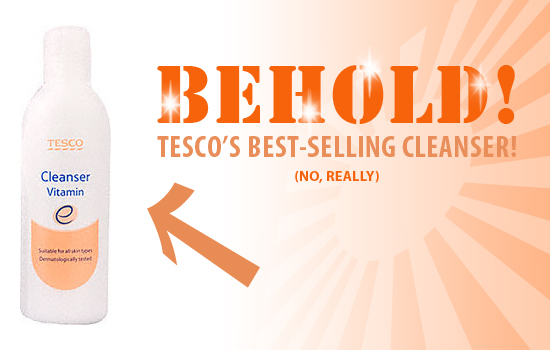 Just goes to show - looks aren't everything. Price is.
You can forget the Eve Lom piggybank fund or any of the other posh cleansers you've rated in the past - no one has owned up to using this one before now.
Tesco sells an incredible amount of, well everything, cosmetics included.  Last week when I asked you to guess which mystery cleanser was Tesco's run away best seller, we had lots of names thrown into the hat. One of the Simple cleansers probably would have been my guess too - and they are huge sellers.  And loads of you guessed various Tesco own brands - but only a few got the right one.
Advertised
The blockbusting, super selling stand out cleanser is  Tesco Vitamin E Cleanser.
Unremarkable, inoffensive, functional and above all cheap.  It costs €1.49 for 100ml.
Head back to the original post - I've updated it to tell you all who won! And don't worry winner - we'll send you out a few nice bits and pieces in case you're less than delira with winning the cleanser alone!