 The new minimalist glitters from Zoya and OPI that I told you about in January are part of a wider trend for textured nails in 2013. So what, sez you, and who could blame you because textured finishes have been doing their damnedest to convince us that they're way more fun than a glossy shine and a for a while now. I bet you're on nodding terms with things like matte topcoats, rubberised finishes, crackle polishes, and sprinkle-on additives like caviar beads, crushed sequins and flocking powder, even if you haven't actually tried any of them personally.
This year, though, you won't be able to move for texture in the nail world as brands seem to have become obsessed with creating ever more new, innovative finishes for fingertips.
NAILS INC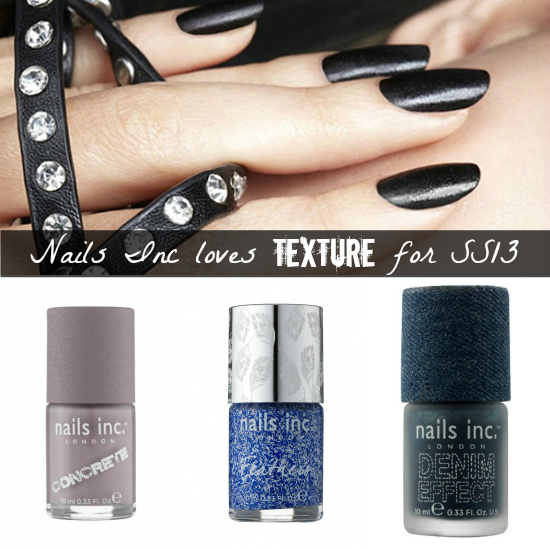 Nails Inc, who have already unleashed a line of Leather Effect and Concrete Effect polishes, also have Feather Effect and Denim Effect releases coming down the tracks (slated to launch in March and June 2013 respectively.)
All pretty self-explanatory in terms of what they're supposed to be aping the look of, really (and the bottle caps provide a helpful hint in the unlikely event of any confusion.)
Advertised
BARRY M
The rather less descriptive sounding Textured Nail Effect paints from budget favourite Barry M will hit stands in the middle of this month. This is a quartet of four pastel shades that are less neon than the promo pic suggests, and all dry to a matte, gritty finish. They immediately reminded me of sand art, to the extent that I suspect we'll see loads of gradient sand art stylee nail designs popping up once the beauty blogging community at large get their paws on them. They're a much more summery take on the trend and a pocket-friendly way to try some texture on your talons.
I can't help feeling that if I went to bed with freshly painted nails and slept on them, the resultant sheet marks would produce much the same result as a textured polish but in fairness it's a while since breakfast; I might just be in the throes of a hunger-induced crank.
What do you reckon, ladies? Is this a trend you'll be trying or leaving?