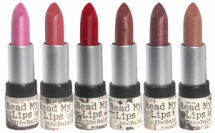 We brought you a little heads-up on new brand to Ireland, The Balm, recently, and now we're gonna tell you about some of their swish-lookin' lipsticks. These Read My Lips collection bullets are super-cute, aren't they? Not just pretty faces though, these lippies are chock-full full of vitamin A, E, olive oil and jojoba oil, with a wee hint of vanilla mint flavour. 6 shades make up the range:
Gossip – shimmering pink
Scoop – coral rose
Wanted – strawberry red
Letter to the Editor – bronze berry
Smut – shimmering plum
Classified – nude
€16.95 is the damage, and they're in selected pharmacies now. Phone 045897769 for one near you. Check after the cut for a full price list of all currently available products.
Advertised
Plump up your Pucker 15.95
Balmshelter lip gloss 16.95
Balm to the rescue 15.95
Read my lips lipstick 16.95
Stainiac 15.95
Overshadow 15.95
Shady Lady eye shadow 15.95
Two Timer mascara 19.95
Pick up liners 19.95
Hot mama 19.95
Sexy Mama 19.95
Bahama Mama 19.95
Timebalm 18.95
Balms away 19.95
Tinted Moisturiser 22.00