 Not mad about nail art? A bit "meh" about multicoloured manis? Well good news: this season, some of the most on-trend fingertips are wearing – brace yourself, Betty – a French manicure.
At the Chanel Spring/Summer 2013 show, models sported the classic two tone paint job with tips painted in Le Vernis Eastern Light and finished with Ballerina.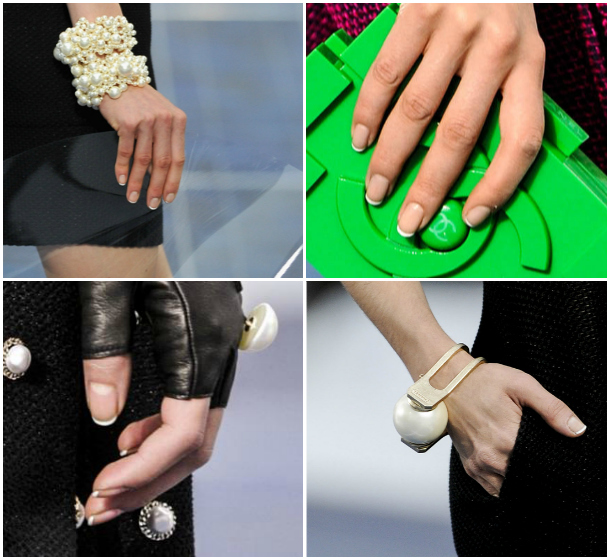 The key to ensuring that the look remains current is to keep nails short to mid-length and the white tip shallow and not too bright with a flattering curve at its base. This will give the illusion of a longer nail bed and keep things looking chic. Opt for a chunky, Tippex-white tip, especially on long, square nails,  and you're straying into WAG/semi-scripted reality television territory. And, unless you're using a very opaque pink atop it, you do want the tip to cover the whole of the free edge of the nail to avoid the unfortunate "is that dirt?!" effect at the base of the smile line handily demonstrated by the model in the lower left. Eh, ew.
Advertised
Now, I'm not a big fan of the French but I can understand its appeal for anyone who desires to look groomed but natural. Personally, on the odd occasion I do wear it, I opt for a semi-permanent, professionally applied version. I find that a French manicure using regular polish chips on me within a day, so something like Shellac is a better bet for any sort of lasting finish.
If you decide to try your hand at DIY, rest your forearms on a table for support, and try slowly rolling each fingernail under the brush to create the the tip. Alternatively, nail art pens like Barry M's (€7) can be a useful tool for the shaky of hand who aren't confident in their tip-drawing abilities.
What do you make of the return of the French?