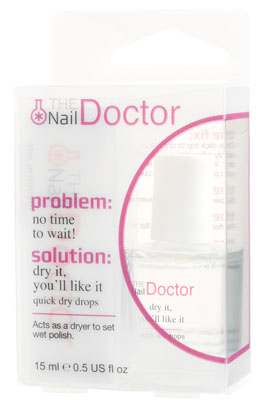 I was whining away there recently about pesky manicures taking approximately one million years to dry and how I'm frequently let down by the salon experience for precisely that reason - layering four-to-five coats of gloop, one on top of the other, is no recipe for a fast-drying result. I've ruined many a €20 treat as a result but recently remembered about a product I've had in my stash a while, but kept forgetting to, y'know, actually use.
It's Nail Doctor Dry it You'll Like it quick dry drops. You get the bottle with regular cap and a dropper cap with button mechanism. I immediately attached said pipette-top and applied a drop or two to the centre of my freshly-painted-with-Rimmel-60-Seconds-in-Pompous nails. It's a sparkly purple and it's loverly. Three coats are really needed with it though as the first is wishy-washy, the second's definitely improving things but it's the third that makes all the difference - and that's why I thought, with that amount of coats plus base on, I'd give Dry it You'll Like it a whirl.
Advertised
While it doesn't dry all the lot to a rock-solid finish it does definitely set the top coat very quickly. You still have to watch out for dents but it'll take the smudge-fear away quick sharp, so I rate it as a definite success, not to mention a success for a home mani. I'll definitely be using this again, and you can bag a bottle at Boots stores for around a tenner.