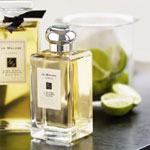 I'd be very pleased indeed to receive a Jo Malone fragrance this Christmas. I'm not a huge fan of some of the fragrances - for example while I find the Pomegranate Noir fragrance very heady, I love the citrus and green florals a LOT. Grapefruit is a gorgeous fresh scent, and Lime Basil & Mandarin is fabulous, and completely disctinctive. Honeysuckle & Jasmine is delicious too.
I like some of the florals as well, particularly Gardenia, which makes me feel all olde worlde and glamorous, and that reason I always wear it with red lipstick!.
Jo Malone fragrances aren't particularly cheap (A 30ml bottle of cologne will set you back about €50), but they're potent. And being different, I think the temptation to drench yourself in scent isn't there because the fragrance will stand out in a crowd anyway. Always good news for the lady who wants to do things a little differently.
Advertised
And to the man in the life of such a lady, where would he score such an item? Brown Thomas of course! Or you can buy online.