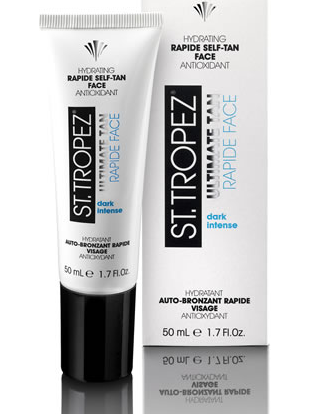 Usually, once the clocks go back, my multiple bottles of tanning lotions and potions and unctions go into cold storage together with the bikinis and the sunglasses and the dreams of long hot Irish summer days.
But this year, with all the extra time that my career break from the day job is affording me, I'm clinging to those fake tan bottles for dear life. Because no matter how much I try to embrace my inner New Moon, Sudocream-coloured R Patz, I know that God meant me to be a couple of shades darker of skin. I just look so much feckin' better and, well, less undead vamp with a birrova tan.
Step up St. Tropez Rapide Facial Bronzer, €27.50. This is a gel tanner with a pump top dispenser that I tried in Dark-Intense, which might seem mad given my decidedly un-olive colouring but I find that "light" St. Tropez products make no difference to the hue of my skin. Tinted (scarily dark, it has to be said) for ease of application, it's a no-muss no-fuss tanner - whack it on, try not to get a build up of product in your eyebrows, 'tache (well, it is Movember), or hairline, and avoid water for 4 hours as your tan develops.
Advertised
Compared to other facial tanners I've used, this is not too shiny or dirty looking, and there's no pesky shimmer, so a trip to the corner shop for a pint of milk post-application is a feasible proposition. I rinsed off the guide colour after about 5 hours and was left with just a golden glow and not a hint of a breakout.
Just the thing for taking that Snow White look off the face atop a bod bronzed to perfection for the Christmas party!