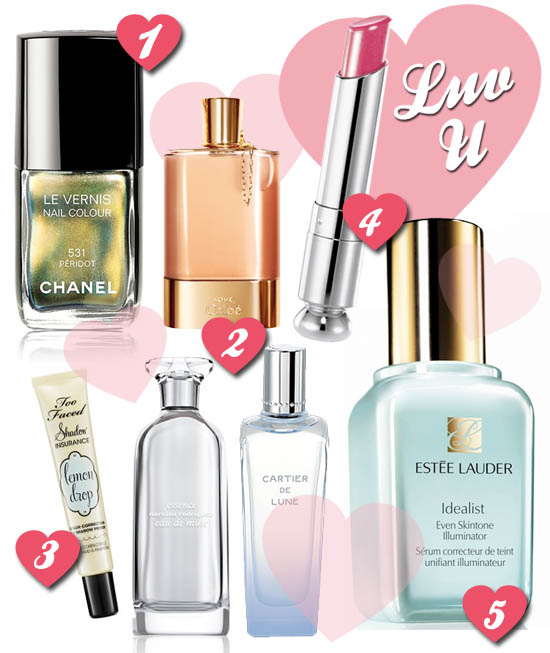 I'm a complete list-a-holic as well as a beauty junkie, so of course I have an ever growing wish list of beauty bits that I'm itching to try. Here are the top five that I'm currently saving my sheckles for...
1. Chanel Le Vernis Nail Colour in Peridot 
Sigh.
I hate myself a little bit for falling in lust with yet another Chanel polish, but Peridot had me from the very first glimpse of its olive green and antique gold metallic duochrome goodness.
It looks edgy and like it would be perfect for transitioning into autumn, although early reports are that it reads far more gold than green and loses some of its teal flash and molten, murky quality between the bottle and the nails. I'll certainly be swatching before committing to a purchase when it's released on August 19th along with the rest of Illusions D'Ombre de Chanel.
On the upside, the formula is said to be a serious improvement on previous Chanel nail polish offerings. Peridot is apparently opaque in two coats, which would make a nice change from the four usually required to get a decent finish.
2. New smellz
It seems that perfumes are a bit like buses: you wait ages to find one you like and then three nice come along at once. Typical. I've got a trio of tiny testers on the go at the moment that I'm trying to decide between. I think what's making it so difficult is that they're all quite similar, with floral top notes and warm, seductive, musky bases.
Love, Chloé, is a fragrance that I don't really like on other people but seems to suit me well and smells warmly feminine without being too floral or sickly sweet. Cartier De Lune is a touch more sophisticated, while Narcisco Rodriguez Essence Eau De Musc is definitely the most seductive of the bunch.
Advertised
This one might end up coming down to eenie-meenie-miney-mo, I reckon.
3. Too Faced Lemon Drop Colour Correcting Primer
My oily eyelids need a primer to keep shadow firmly in place and prevent it from creasing, and the original Too Faced primer has always been a firm favourite. I'm hoping it runs out shortly so that I can replace it with this yellow toned version, which promises to counteract redness on the eyelids as well as giving eyeshadow something to hold onto.
At the minute I'm using separate products for each jobs (Too Faced primer and Benefit Lemon Aid) so sure I'd practically be making money by buying this stuff.
4. Dior Addict Lipstick in 465, Singuliere, or 578, Diorkiss
Usually, I favour a non-sticky gloss over lipstick for daytime, but that could well be because I tend to gravitate towards lippie that's super bright and creamy and opaque. Things might change around here if I get my hands on one of these gel-based beauties, though. Singuliere is a sheer, juicy, girly, bubblegum pink, while Diorkiss (the shade La Moss wears in the adverts, fact fans) is a slightly more soft medium rose pink. Both are free of the shimmer that's present in many other shades in the Dior Addict range and frankly I'm having a hard time choosing between them.
5. Estee Lauder Idealist Even Skintone Illuminator
I've just sawn my trusty bottle of Estee Lauder Idealist Pore Minimising Skin Refinisher in half (using the breadknife - Himself was Not Impressed) to try and get at the product dregs, and I'm now trying to decide whether to repurchase or to replace it with the brand's new Idealist Even Skintone Illuminator (check out this review of the matching eye product).
The product slut in me is, of course, leaning towards giving the new kid on the block a whirl and I do like the sound of it: Even Skintone Illuminator is an oil-free, non-acnegenic serum that promises to reduce the look of uneven skintone by targeting redness, acne marks, dark spots, sun spots, and discolourations.
Advertised
So there you have it! That's what's on my beauty wish list at the minute - what's on yours?