 I've realised that I've tried out a whole heap of brilliant products lately and keep saying to myself "I HAVE to write about that!" but somehow never having the time.  And plus the new kitten keeps jumping over the keyboard and deleting everything I've shagging written with regularity.  Yes I could shut the door and lock him out, but I don't have the heart - he's too cute.
So I've resolved to sit down at the computher and give a summary of a few of My Favourite Things - is that fair enough?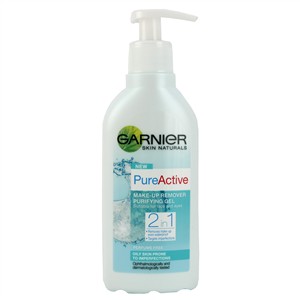 First up is Garnier Pure Active Make-Up Remover Purifying Gel (€7.49 200ml).  I've already reviewed the Intensive Charcoal Scrub which is the buddy of this guy and it's super too.  I know those of  you with oily skin are sometimes wary of using oil cleansers -and if you are this is a perfect substitute.  A clear gel, it quickly removes every grimy trace of everything that's been adorning your visage, even mascara and heavy eye makeup and won't irritate your eyes.
Advertised
Quick and easy, especially formulated for oily skin it unclogs pores and dampens down shine.
Summary: ditch the wipes.  This takes it all off in one fell swoop and cleanses your face properly while it's at it - a winner.
Anyone tried it?  What do you reckon?