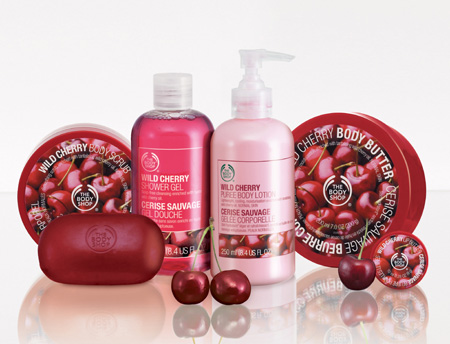 The Body Shop have brought out another of their fruity body ranges - and this one is the colour of love - just in time for Valo's day.
The Wild Cherry range contains rich, moisturising cherry oil crushed from the kernel stone of fruit which is hand harvested near Verona. These kernels would probably be tossed aside by the callous jam makers who use up the rest of the cherry - so the lovely oils would otherwise be wasted.
If you know me, you know that I adore Body Shop Body Butters - and there's loads of flavours to choose from. Really rich, dense and creamy, I think they pack a really good skin softening punch and deliver a fragrance that lasts on your skin for hours. Now I have to say this is a little too sweet for my taste and I still prefer Strawberry or (oh divine) Pink Grapefruit. If you prefer a less girly scent give this one a miss - but if you love to smell like you've been set loose in the Pick n Mix this one's for you!
Advertised
Available from 4 Feb.
Wild Cherry Body Butter RRP €19.95, Wild Cherry Shower Gel €9.95, Wild Cherry Body Scrub RRP €19.95, Wild Cherry Body Puree RRP €13.60, Wild Cherry Soap RRP €3.95, and Wild Cherry Lip Butter RRP €6.95