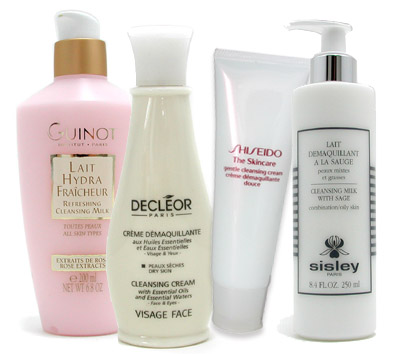 I don't know about you, but I'm not that big a fan of cleansing milks or lotions. I find them a pain to use, and I'm not too confident that I'm taking all my makeup off properly when I do use them. So, I tend to stick to oils and washes. They do the job I want them to, and leave my skin feeling squeaky clean.
But therapists use cleansing milks, so there must be a good reason for the fact that they're legion on beauty counters and in salon ranges, mustn't there? Yep. There is. If you have very sensitive skin or suffer from a condition like rosacea, then it's essential to keep skin calm during the cleansing process. Enter kindly milk or lotion. The right one will gently cleanse and leave even the most irritated of skin feeling comfy.
Cleansing lotions and milks are also ideal for something else - double cleansing, another technique used by beauty professionals. If you're a fan of having facials, you'll notice that skin is always cleansed twice, to ensure that the complexion is as clean as it's possible for it to be. So, if you're finding that face washes are too harsh and leave you feeling sore and uncomfortable, then perhaps that's not the cleansing method for you, and a move to something kinder would be beneficial for your skin.
Advertised
I've selected a few that I think would do the trick nicely - from L-R above, we have Guinot Refreshing Cleansing Milk, €19.50; Decleor Cleansing Cream for Dry & Dehydrated Skin, €20.50; Shiseido The Skincare Gentle Cleansing Cream, €20.50 and Sisley Botanical Cleansing Milk with Sage, €55. All are available from Strawberrynet, with savings from 6% to 21%.