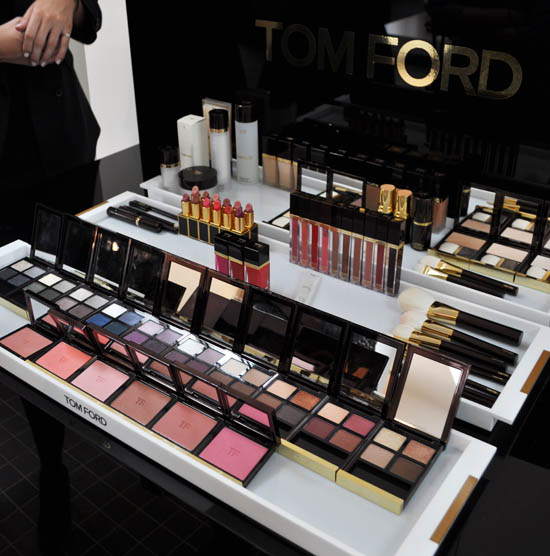 So complex and secretive were the arrangements for the Irish press around the preview of Tom Ford's forthcoming Colour Collection that the building the show and tell was held in in July had many mysterious doors which led to nowhere*, thus adding to the general skulduggery of the affair. Promises were also extracted from Aisling and myself not to breathe a word until today, which we pinky-swore on, and once we actually got inside, what greeted us was everything laid out beautifully, just aching for kid-in-a-sweetshop swatch-happy fingers to get busy.
This line takes up where the lipsticks tantalisingly left off. Arriving exclusively at Brown Thomas Dublin on September 3rd (Ireland and the UK get the line before the US, amazingly) will be 10 Eye Colour Quads,  €75, six Cheek Colours, €55, 10 Lip Lacquers, €30, 10 Foundation Sticks,  Traceless Foundation SPF15, €70, as well as products to contour, highlight, accentuate brows, mascara, some basic (and yet super-luxe) skincare - and more. Please note, prices are to follow and they will be high.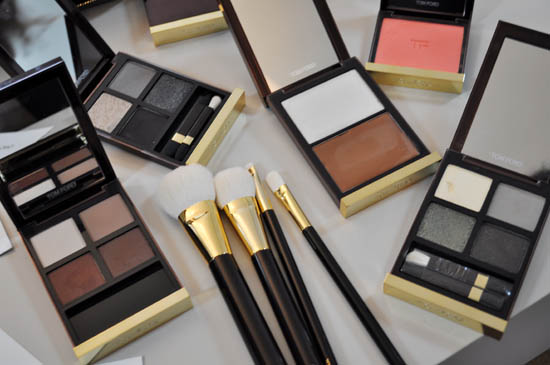 Some of the lineup: eyes, brushes, blush and contour
A collection for lovers of luxury, it's all got a strong 70s sensibility, with his signature brown and gold packaging accents, lush, shimmery textures, saturated colour and an emphasis on contouring and flawless skin. Like so many other designers - Christian Dior's a famous example and the brand's perfumes still heavily reference the flower garden at his childhood home - Ford's recalling the utter fabulosity of his mother's makeup application when he was a child. It's not much of a leap to imagine that he had a pretty glam mam, is it?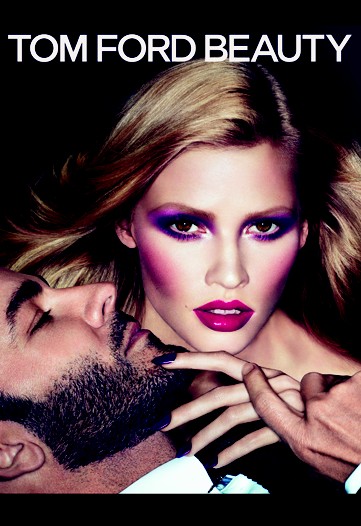 Pic credit: WWD.com
But lets get real for a second. Makeup in the 70s was hideous. Foundation was frikkin' terrible, eyeshadow was an eyesore and lipstick was very less than lovely. No one would want to go back there. This is Ford's utopian reworking of the glamour of his memories using modern technologies, materials and colours. Even the model shots starring Lara Stone are a very definite nod to that. Less blue shadow to the brow bone and more modern, uber-blended and refined purple with a dripping fuchsia lip are Ford's Noughties take - and lets breathe a sigh for that. You will want, (you'll have to) save for and covet this stuff.
Speaking of which, lets get to a low-down of what's going to be on counter, shall we?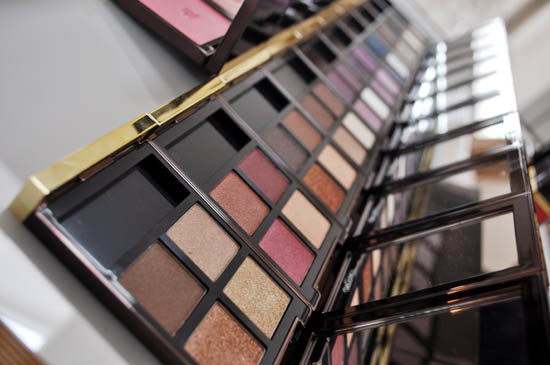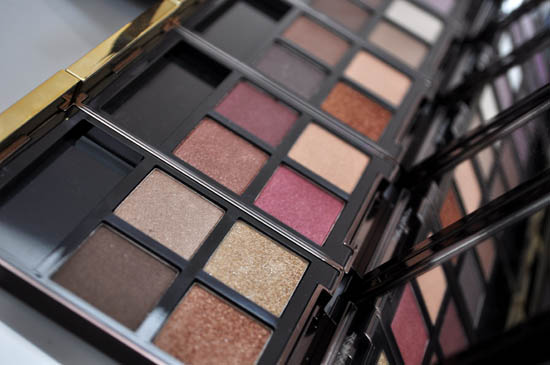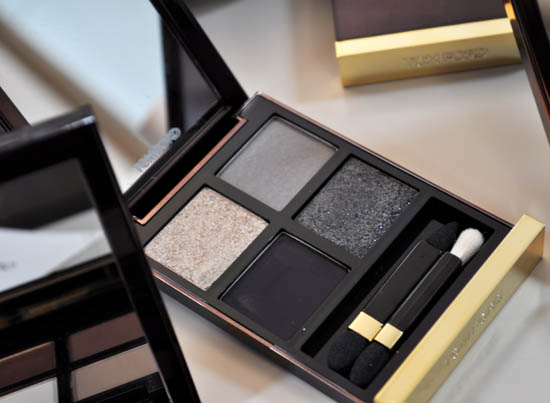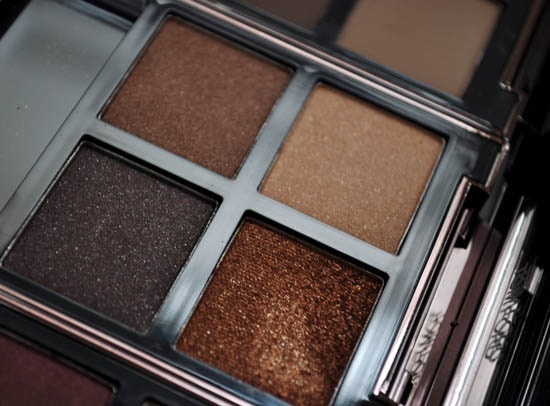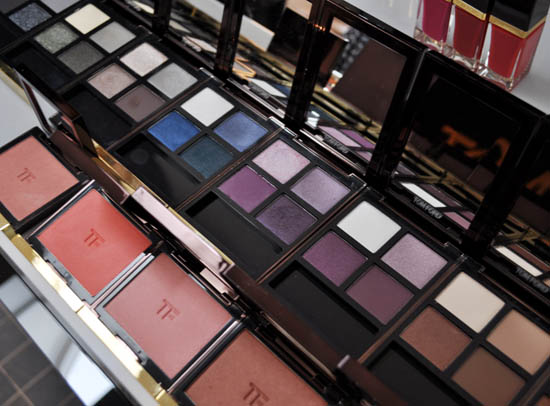 Currently, shadow is all about palettes with no singles or duos on offer. The Eye Colour Quads are not surprisingly, pretty standout looking.  They really reminded me of YSL's style and guess what - Ford was Gucci and YSL's creative director between 1994 and 2004, so no real surprise there.  There's enough here to interest most of us but bargain hunters definitely need not apply.  Textures are fabulous as is pigmentation, the shade choices in each palette are well considered and yes - that's all as it should be for the price.
The one thing I was a bit disappointed about with the quads is the packaging. It certainly looks good but it lacks the heft you want from such an expensive piece of beauty kit. Brands often put weights into compacts like these to add grammes; perhaps it's more handbag-friendly to leave them out, but it leaves the palettes feeling a little flimsy - I'd prefer to feel the extra strain, to be honest. I think I may not have seen the final packaging so it may be different by the time it hits counters - fingers crossed on that.
Also for eyes there'll be an Eye Defining Pencil in six shades, a black gel liner, Noir Absolute for Eyes, which has "a unique spark of blue optics to catch the light and brighten the eyes," Brow Sculptor in four shades and Extreme Mascara in deep black.
Next up, cheeks.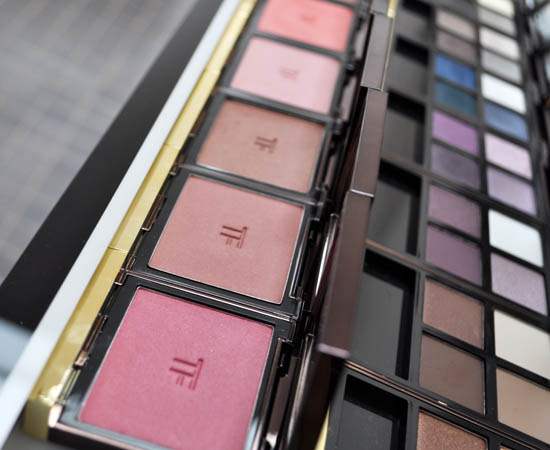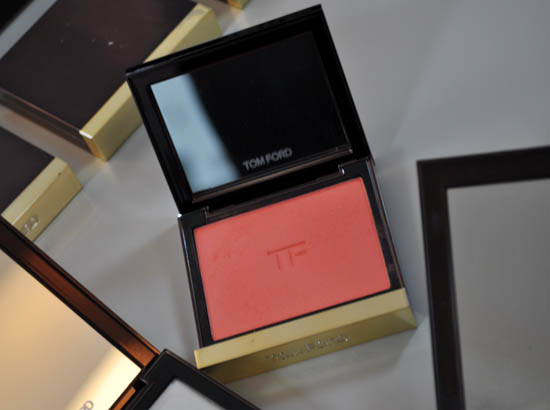 Advertised
Six shades of Cheek Colour will also be landing in shades from rosewood to peach, pale pink and that hot-looking coral. Again, expensive, as a compensation, the pan sizes are very generous.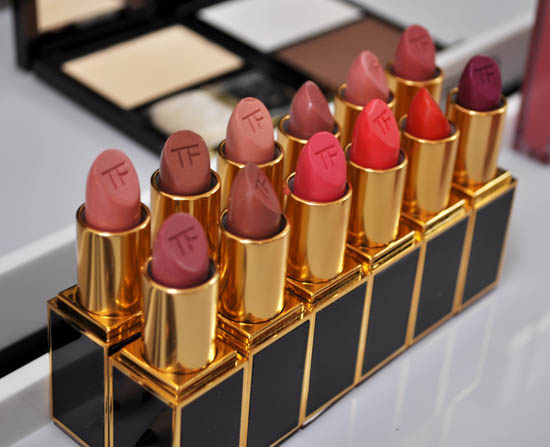 The existing lipstick line, Lip Colour, €45, which launched in 2010, gets a reworking: some shades will be discontinued and the packaging changes from white to brown, so if you've got a white, hang on to it - it's about to become a collectors item.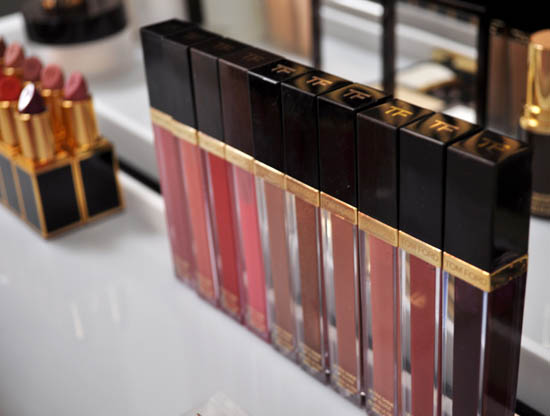 Lipsticks will be joined by Ultra Shine Lip Gloss, high-shine, colour-saturated gloss in 10 shades. Looks yum, eh? For lips there's also a Lip Lacquer, a tube of clear gloss that can be worn over the lipsticks or used solo.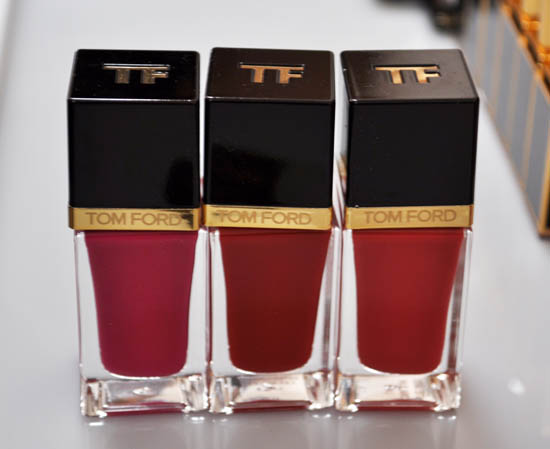 16 Nail Lacquer shades will also form part of the lineup but they won't be launching straight away. Look for these on counter in December - here's a taste of 'em above.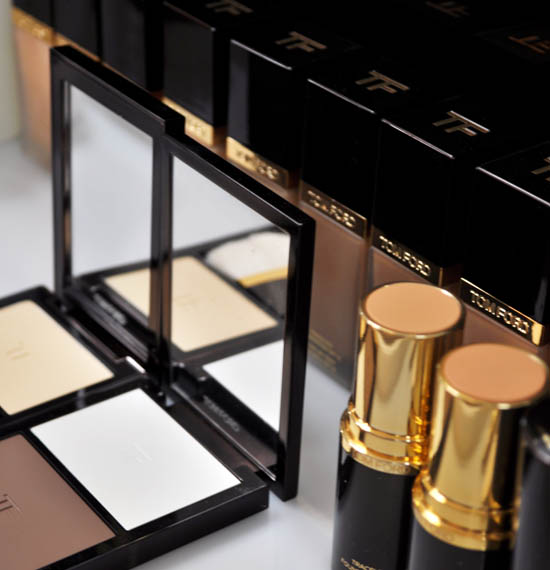 I was eager to see how Tom Ford would do face: one of the things you do observe about this line is that while there's lots to look at - and certainly enough choice - there's not a bewildering amount of 'stuff'. To begin, he's just done one mascara, for example, six blushers in one texture and a solo gel eyeliner.
The face routine's not a lot more complex either, with 10 (or possibly 11) shades of Traceless Foundation SPF15, which is the liquid offering, and a stick version, which is super-creamy and might appeal to a more mature customer or to someone who likes that bit of extra coverage. It comes in ten shades and both myself and Aisling were impressed at how emollient it was - Max Factor Panstick this ain't.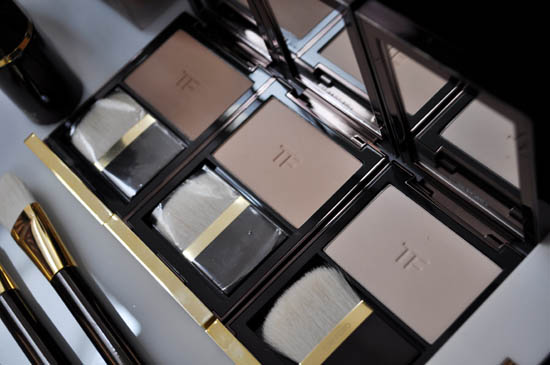 There'll be Translucent Finishing Powders on offer, in four shades.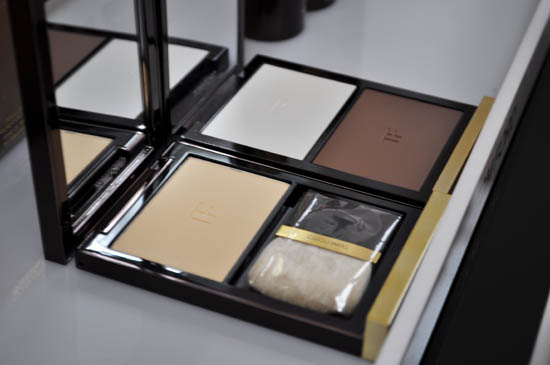 And this interesting-looking little feller, top: it's Shade and Illuminate, €65. A duo product, one end contains a cream shader (the darker end) which you use to contour cheekbones, nose, temples and chin, while the white end is designed for use as a highlighter. This will come in two shade offerings.
For face, we'll also be seeing an Illuminating Highlight Pen in eight tones and an Illuminating Powder.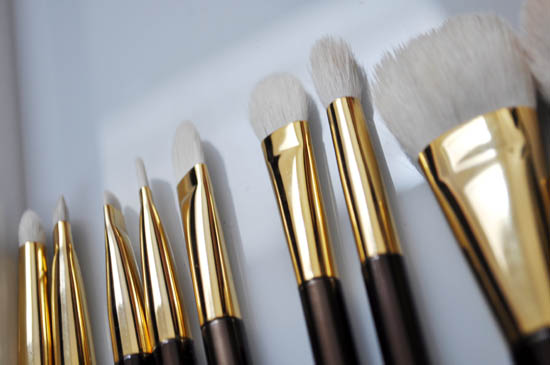 Lastly - of course he's done brushes. These are beautiful, super-soft, fine, natural hair tools that feel gorgeous on the skin.  What's on offer here? Eyeshadow, eyeshadow blend, eyeshadow contour,  smokey eye, eyeliner and definer, shadow and concealer, foundation, cream foundation, cheek, shade and illuminate, bronzer and lip.
Check back tomorrow because I'll have some swatches! Yes - I will indeed. I've had a play with a palette, blusher, eyebrow definer and foundation and have the shots prepped and ready to go for your viewing edification.
In the meantime, let us know in a comment what you think of the forthcoming Tom Ford Beauty Colour Collection, and given €500 to spend guilt free and free gratis, what would you buy?
Advertised
*Might be exaggerating slightly; it might also be that we went to the wrong one initially and had to be found and brought in the right entrance.