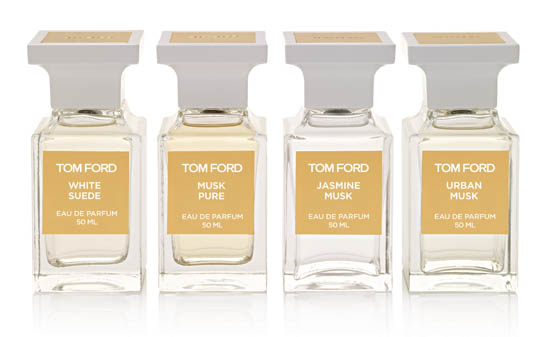 Tom Ford's scoring successes all over the shop recently: his directorial debut a Single Man has been garnering rave reviews (not to mention a best actor BAFTA for Colin Firth) and it's safe to say that his fragrances are going from strength-to-strength too - oh, and we can keep fingers crossed for some cosmetics from the man later on in the year.
The four-strong White Musk collection actually hit counters before Christmas so it's not hugely new, but I've been wearing one of the scents to death, and that's been Jasmine Musk. Now, when I first heard about this line I was firmly convinced it would be pukearama. While musk is one of the notes perfumers use as a building block in a fragrance, I hate anything intensely musky. Usually, if it's in the name of the scent, that's a big bad sign.
But one of Ford's points of genius is his ability to reinvent much-maligned notes and make them smell really nice and make them hip again. It worked with last year's White Patchouli, which I adore, and it's worked again with the White Musk line-up.
Advertised
Avoiding that really skunky, heavy musky scent, you can choose from Urban Musk, Jasmine Musk, White Suede and Musk Pure. All are light, all smell great. But Jasmine was the one I plumped for because I really like Jasmine when done well, and this is - there's none of the slightly sour scent there sometimes can be with the flower and the musk is not 'musky' - it seems to make this scent smell less sweet and obtrusive than it might.
It's an excellent day fragrance, as far as I'm concerned. I'm spritizing Guerlain's Idylle at night a lot now which is a super-sized, glam Jasmine with a lot of rose, and I find the pair really work for a day-to-night version of the same note.
So, how much will the Tom Ford bottle set you back? €140 for 50mls, making this a definite investment buy.