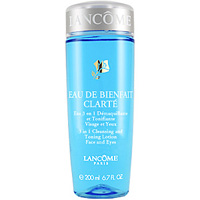 Our poll-before-last threw up some interesting results - 27% of you cleanse, tone and mositurise twice a day, every day. 19% of you moisturise in the morning, but 16% of you don't tone at all. I was one of these people, but I've been making an effort recently to try to incorporate it into my routine.
But why tone at all? Well, while cleansing removes makeup and dirt, it also strips the skin of its protective shield. Toners restore the pH balance of the skin and they remove any remaining makeup that didn't come off already. In addition, they'll remove any remaining cleanser residue (such as you'd get with an oily eye makeup remover) and toners also close the pores and tighten the skin. Right, that's me convinced. So what's good?

The lazy ones of us out there might appreciate Lancome's EAU DE BIENFAIT CLARTÉ which is a 3 in 1 Cleansing and Toning Lotion for face and eyes. It's a water-light, three-in-one formula which removes makeup from the eyes and face, AND it tones skin while it's doing it, making it perfect for those of us in a constant hurry. It contains natural botanical extracts of Papaya and Pineapple to revitalize the complexion and boost its natural radiance. It smells delicious too and you don't need to rinse - just put on your moisturiser and you're ready to go.
Advertised
You'll easily get it wherever Lancome products are sold, and a 400ml bottle will set you back in and around €30. You can get it a bit cheaper from Strawberrynet though, where a 400ml bottle will cost €26.50.