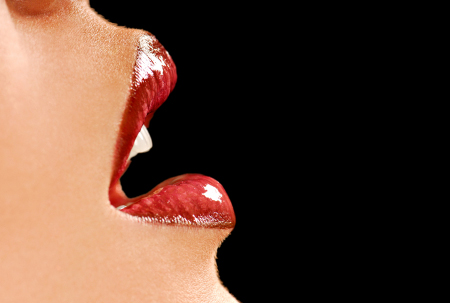 One of the girls in work was quizzing me the other day about how she could make sure her lippie stayed put for Valentine's. Herself and The Fairly New Fella have a chilled-out, laid-back Saturday of museums and galleries and leisurely coffee stops planned, and she was keen to ensure that her lipstick would do a reasonable job of neither smearing nor disappearing during the anticipated lip locking that the day would surely bring. What about that She-Ra stuff, she said (once I'd stopped falling around the place laughing, I established that she did actually mean Benefit's She-Laq), or maybe Lipcote? Or should she go for one of those long-lasting lipstick jobbies?
If you're similarly wondering how to keep your lip colour in check for Valo's, I'll tell you what I told herself: forget about lipstick or gloss if you're planning lots of surreptitious pecks, carefree canoodlin' or full-on PDA eww-get-a-room snogs. Seriously. With lipstick, you'll probably spend the best part of the day trying to check yourself out in reflective surfaces to see if it's still there or has migrated off around your ear somewhere; most people find long-lasting lipsticks very drying without the topcoat, which is likely to be worn off your face sharpish if the day goes according to plan.
Oh, and I have yet to meet a fella who enjoys getting stuck in a lipful of even the least gloopy of glosses.
Advertised
Fuhgeddabout all that jazz, and instead make sure your lips are prepped to perfection so that they need the bare minimum of product to have them looking their best. Buff lips very gently by using a facecloth or soft toothbrush in small, circular motions to remove any flakiness or dead skin. DO NOT use an exfoliant formulated for your face, it will be far too harsh, tear the poor lips off you and ultimately leave them drier than The Betty Ford Clinic. There's a reason some products say "avoid the delicate lip and eye area", y'know? To create the illusion of a fuller pout, try applying a lip plumper like Too Faced's Lip Injection, DuWop's Lip Venom or Urban Decay's Big Fatty Lip Plumper a half hour or so before you head out, let it do it's thang and then wipe off. Remember, these laddies generally work by stimulating the flow of blood to the area and are actually mild irritants: probably best not to use them just before getting, ehem, especially intimate with your man...
To finish, apply a lip stain (I like Posietint for this job) and top with balm for a shiny finish, or just use a tinted balm for a more sheer veil of colour. I'll allow a single dot of clear gloss in the centre of your lower lip if you're freaking out about your lips not looking pouty enough, but that's it.
Pucker up...