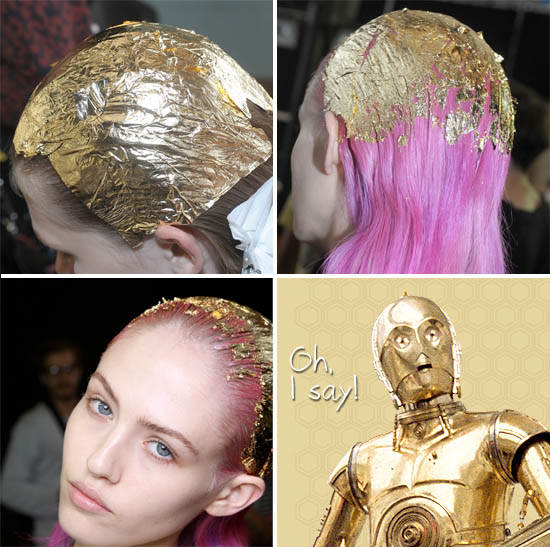 I do appreciate another opportunity to use C3PO and his six million forms of communication in a post (who would have ever thought he could be so well employed on a beauty blog, eh?) but here he is again, ably illustrating one of Spring's trends, that of golden embellishments. Popping up in both London and Milan, gold's not on fingers, but it is in hair, and oh, on eyes.
At London's Topshop Unique show (above) a couple of weeks ago, gold leaf was pressed onto the back of slicked-back gruaig, and then distressed for an antiqued, frayed finish. Now, clearly, this is a super-duper editorial look and one you're going to struggle to find a real-girl substitution for, so it's possibly one best kept for the catwalk. Beautiful: but not exactly practical.
I mean, my personal gold leafer only works part time so I really wouldn't be able to get him around every morning to whip my hair into full on Golden Girl mode.
NEXT!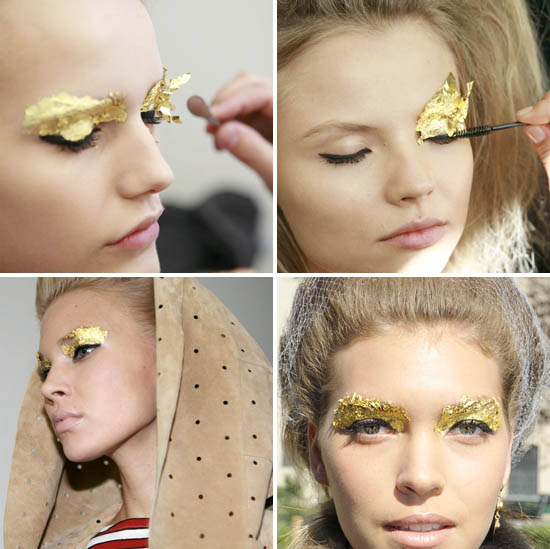 Advertised
Over in Milan at the Fendi show, out came the gum arabic and the gold leaf once more, but this time it was used on eyes. Again, it's a really high-fashion, high impact look and one of the reasons catwalk makeup can be so OTT is so that it'll show up under bright lights. No fear of this going unnoticed, then, but if you're a fan of metallics - and I am - then you'll be able to appreciate how this might be toned down for the real world.
There's something pretty gorgeous about it as it is - but yeah, I'd feel pretty silly nipping to the pub in Dublin with gold leaf burnished to my brows, so I might just think about a bit of old-gold shadow and some liner instead, with matching fresh skin, minimal blusher and a nude lip. That'd be a wearable take on the trend and no one would point and laugh.
Whaddya reckon? Is gold a goer or gick for Spring Summer 2012? As always, we want your comments!
Backstage beauty shot credits: wwd.com