 Obviously when it comes to holidays I am as an efficient in this respect as I am in the rest of my life.
Not for me the disorganised chaos of packing into the small hours of the morning, of realising that the jeans I want - no, NEED - to wear on the plane are still in the laundry basket, or making a frenzied dash to Marks&Sparks to buy a strapless bra and yet another five pack of knickers. I mean honestly how many pairs of knickers do I think I'm going to get through in a week?
And I seem to think I'll always need another maxi dress.  Even though - wait for it - I DON'T EVEN LIKE MAXI DRESSES because I'm too short for them.  But for some reason I always imagine myself sitting outdoors at a restaurant as the sun goes down, drinking wine, while my maxi dress flutters in the warm breeze.  That never happens of course.  On our last holiday I had to sellotape the hem of two maxi dresses that were way too long even though I'd bought them in the petite section.
But when it comes to holiday makeups and the like, I'm a bit better and here's a few things I'm throwing in the bagáiste this year.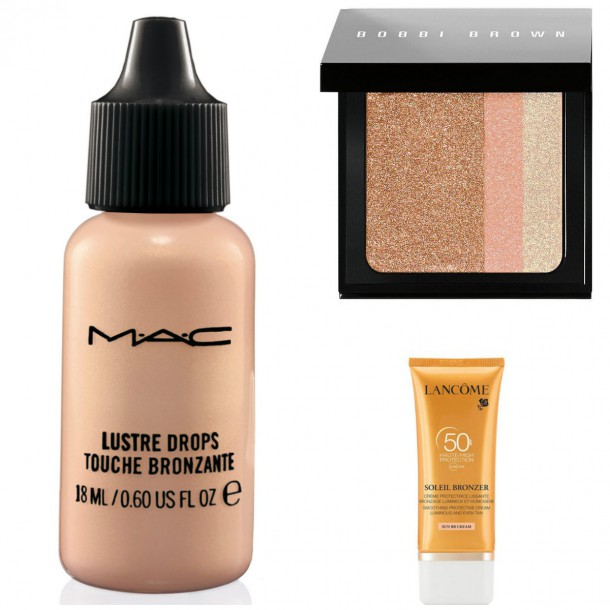 Lancome Soleil Bronzer Sun BB Cream SPF50 50ml (€29)
Gorgeous glowy stuff this and perfect for daytime wear with a sun deflecting SPF50.  If you don't want colour with your sun protection then the brilliant Shiseido Urban Environment UV Protection Cream Plus is a winner.  And guess what?  The Aldi facial suncreen is pretty good too.
Advertised
Bobbi Brown Brightening Blush in Bronze
Two new bronzers  from the Bobbi Brown Surf & Sand Collection are to die for. DIE I tells ya.  Choose from either the pinky one or the bronzy one - bronze will be great for the holliers.  Also have a look at the new Urban Decay Flushed trios we were checking out last week.
Mac Lustre Drops
I L.O.V.E Mac Luste drops - mix them in with your foundation to "summer-ise it instantly and create a bit of shimmer.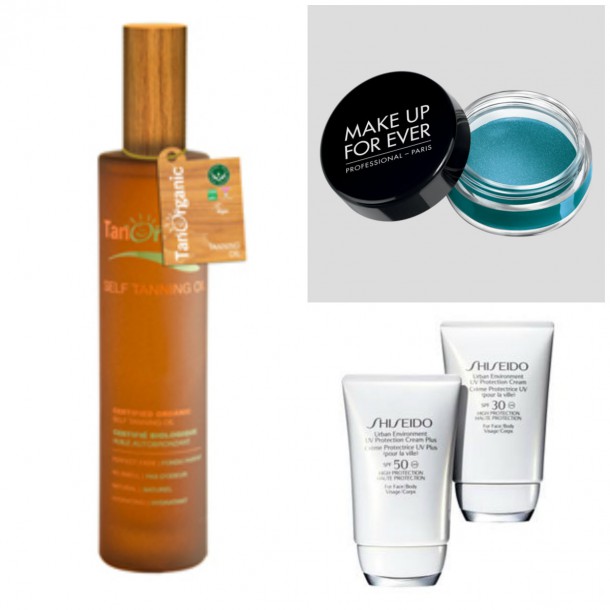 That foundation you bought ages ago that's two shades too dark
You were raging when you got it home because it looked perfect in the shop, but at last there's a use for that foundation that gave you a tidal wave mark, rendering neck and face different ethnicities.   Whack it into your case and craftily mix it in with your regular shade to take the paleness off you and match up with your fake tan if you wear it.
Makeup Forever Aqua Cream
Face the truth: in a hot country makeup will slide off your face quicker than Germany can score a goal against Brazil.  Always pack waterproof mascara, eyeliner and check out the brilliant Aqua waterproof range from Makeup Forever.  See more waterproof makeup picks here.
Tan Organic Self Tanning Oil (€24)
If you don't want to be arsed with streaks, mitts, the smell of stale digestives and a radioactive orange colour, then this may be the tan for you.  The worlds first self tan oil apparantly, this will give you a bronzy glow instead of a flat biscuit base.  It's moisturising and leaves your skin feeling soft - and it actually smells nice with a  blend of 8 different plant oils including Borage seed oil, Argan oil and Orange peel oil in the mix.
What do you recommend for summer packing?  What can you simply not leave home without?
Advertised
For more, check out Beauty Call in the Irish Times.