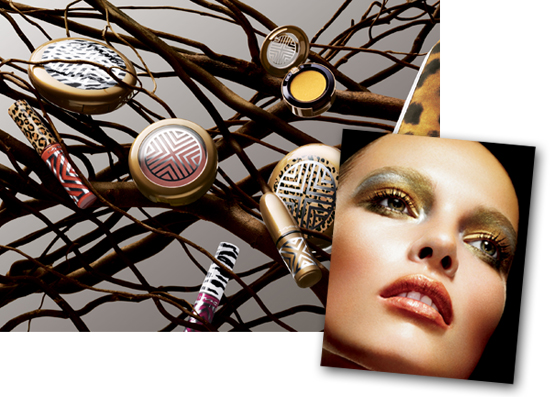 On counter at the start of June is the Style Warrior collection from - you guessed it - MAC. Above is one of the model shots and a snapshot of some of the limited edition products in the collection.  They've got immediate stand-out appeal because of the packaging, and to find out about the rest  of the collection - including the intriguingly-named Solar Bits and Lustre Drops - check after the cut.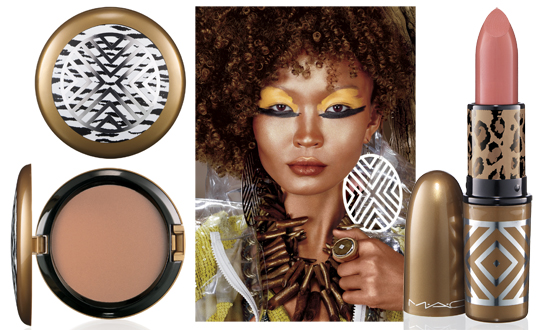 Above left is one of two Bronzing Powders, €23, in Refined Gold. In the middle is another collection model shot, an incredibly editorial offering and I'm drooling. To the right is one of four lipsticks on offer. It's Brave New Bronze, and it's €17.50.
The collection also includes yer regular eye shadows, lip glosses and nail polish, as well as MAC's Skinsheen spray bronzers that rock up at this time of year.  But the two stars are yet to shine ...
Advertised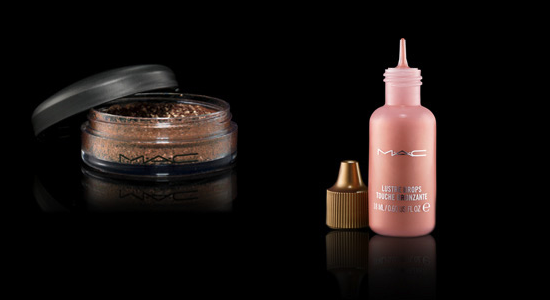 Solar Bits, above left, come in three burnished shades  (you're looking at Scatterrays) and cost €24.50. But ... er ... what are they? "Highly condensed clusters of pigment and pearl uniquely formulated to give a special hit of frost and colour on eyes and cheeks," apparently. Right so! On the right is one of a trio of Lustre Drops, €21, in Pink Rebel:  "A bronzer that applies like liquid sun," say MAC. Yum, says I.
What d'ya reckon? Will you pick anything up?
All pics courtesy of MAC cosmetics.