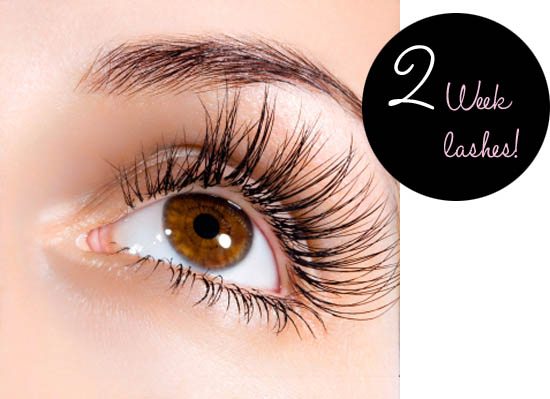 I'm hoping to go under the laser to have my vision corrected in the next couple of weeks, which is the only reason I didn't book in for a set of lash extensions before my holliers at the end of last month (you might recall that Amber's rekindled my complete obsession with all things eyelash.) Individual lash extensions generally last four-to-six weeks and need to be removed before having laser eye surgery, so I decided against shelling out big bucks for extensions since I wasn't going to get a full month or so of uninterrupted wear out of them.
Then I hit upon the genius idea of having two week lashes applied instead. Sometimes called party, flare, holiday, or honeymoon lashes depending on the salon you opt for, these are cluster lashes that are stuck on with a semi-permanent adhesive and last for about for a fortnight, and are then supposed to fall out gradually as your own lashes are naturally shed. As they're clusters rather than individual lashes, they're quicker to have put on (less than 30 minutes, versus a couple of hours) and that's reflected in the price. The damage for two week lashes is usually about half the cost of their longer-lasting counterparts.
Having them applied wasn't exactly what I'd call relaxing. I had to keep my eyes open throughout the process and fix my gaze on different points dictated by my therapist as she worked along my lashline. A tweezer was used to affix each cluster and I was terrified that one false move by my therapist would mean that I'd be taking a trip to an eye surgeon sooner than planned, and my eyes watered constantly from the fumes of the glue.
Still, in the end I had me a set of fabulous fluttery falsies with a curl that looked surprisingly natural and blended perfectly with my lashes. The new additions didn't feel natural, mind: it took three full days for my lids to get used to the extra weight, but once that happened I can honestly say that I'd totally forget I was wearing them.
Until I'd bat my lashes a little too enthusiastically and accidentally cause gale force winds, I mean.
Obviously, I loved waking up every day with amazing lashes, and I found that they encouraged me to wear far less foundation than usual (I actually went out in Paris one day with JUST CONCEALER AND BLUSHER on. True story.) I think that was because my lashes didn't look as obviously "dressed" as they sometimes do with mascara, even though the extensions were fractionally longer than my lashes and really made my eyes stand out. When I wear mascara on my fairly long natural lashes with a bare(ish) face, they somehow look OTT and out of place and I feel that they need a more "done" face than a lick of concealer can provide.
Advertised
In terms of aftercare, I was warned off oily make-up removers, splashing handfuls of water directly onto my new lashes when washing my face, and rubbing my eyes; I was also told to use my fingers to gently encourage the curl to return to the lashes if they drooped a little after a shower.
About a week in, the first casualties of war wear put in an appearance. The corner lashes were the first to go, but their absence wasn't at all noticeable so I wasn't too put out by their demise. Between days 10 and 12, a few more clusters of lashes gave way, and I was alarmed to notice that these seemed to be taking an awful lot my lashes - root bulbs an' all - with them.
Once I spotted that, I wanted them off off OFF, and immediately if not sooner. I couldn't get an appointment with the salon to have them removed professionally so I hightailed it to my local salon supplier, picked up a bottle of remover specifically for taking off semi-permanent eyelash adhesive, and set to work as soon as I got home.
I carefully applied the remover to the glue on my lashes using a cotton bud and a tissue under my eyes to prevent any excess seeping into my peepers, and, after a few minutes and a couple of reapplications, the falsies slid off my own lashes with no resistance and with none of my own lashes stuck to them. Result!
I can see how people get addicted to having eyelash extensions: I've only been without mine a couple of days and I miss having improbably impressive lashes with zero effort.
On the downside, though, I lost far more lashes than I would naturally when the extensions were shedding of their own accord, and as a result I have a couple of gaps in my lashline; I suspect that individual extensions would cause fewer problems than cluster lashes in this respect because they wouldn't be as heavy.
Advertised
Have you given two week extensions a lash?
Loads of salons are now offering this service so it's likely that your local does, too; price varies by location. Elysian Brows on Dawson Street offer two week lashes for €30; Up To My Eyes in Greystones come highly recommended (Cathyfly checked them out here for the blog) and offer several different options, with prices starting from €25 for a set of corner lashes.