 Victoria Beckham has had a multitude of style transformations over the years but one part of her look hasn't changed, even from when she first broke onto the scene as Posh Spice and that's her signature smokey eye.
She tends to wear a winged out finish which suits her eye and face shape but you can always tailor the shape to your own features or preferences.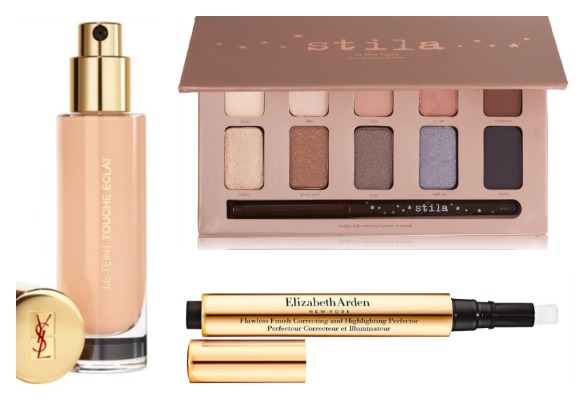 Also, you don't have to go for darker shades like I did here, golds, champagne and brown will look just a lovely for a more day time look.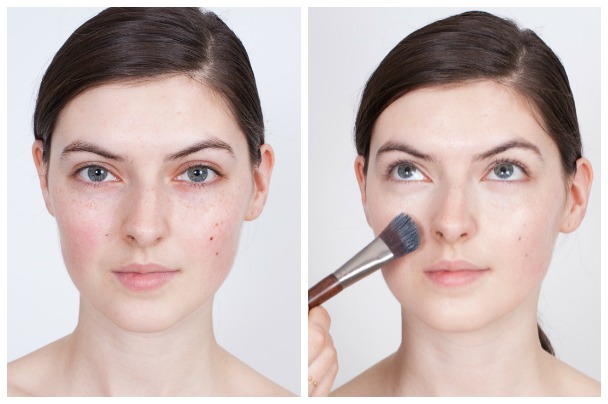 I started with a light moisturiser to prep my model's skin and then applied the base. I used YSL Teint Touche Éclat foundation (€38) which blends beautifully whether you use a brush or fingers tips, giving a true skin-like finish that looks fresh and light.
To finish off the base I buffed a little Elizabeth Arden Flawless Finish corrector pen (€31) under eyes and then set with a pressed powder.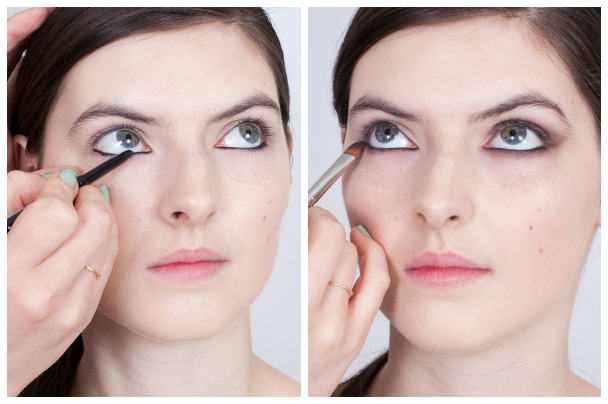 The smokey eye was created using three eye shadow shades from Stila's "In the Light Palette" (€32) which comes with an eyeliner (so handy!).
I started by lining the eyes so that the product would soften and melt into lashes and then, to avoid harsh lines, smudged it further using "Gilded Gold" all along the bottom lashes. To create the beginning of the winged shadow, I blended upwards at the outer corners using the shape of Aoife's cheek bone as a guide for the angle.
Advertised
If you're not sure how to do this, or have trouble seeing it by eye alone, try placing your brush on the top of your cheek bone first.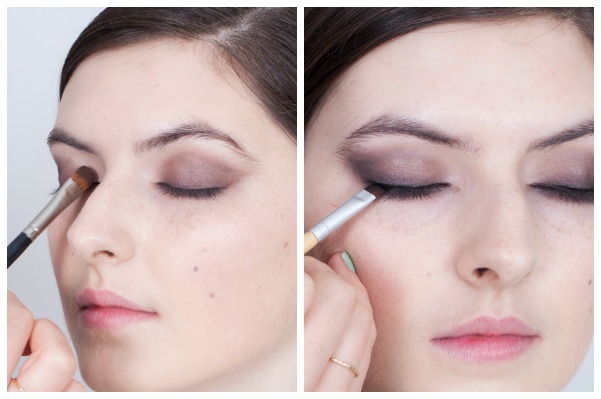 Having the winged tip mapped out from the bottom lashes makes it that bit easier to see how to shape your eyeshadow on the top so you should be able to connect up the shadow to create your winged look. If it goes a little pear shaped, blend away the excess using a clean brush with a little pressed powder on it.
To add depth I switched from using the Gilded Gold to the deeper shade of "Luster", going along in the outer corner of eyes and into the socket. To finish off I used "Ebony" (a solid, matte black shadow) along the top lashes, lined the lid with Rimmel Exaggerate liquid liner (€7.29) and then applied two coats of mascara, concentrating on the root of lashes for a more dramatic effect.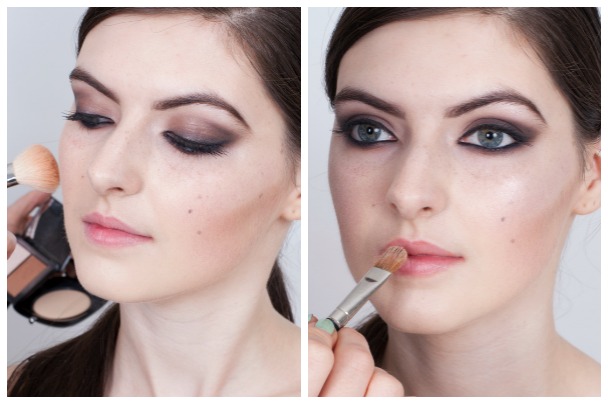 As we know, VB is a fan of contouring so I thought I'd give the NARS Dual Intensity Blusher in "Craving" (€39) a go to see what it was like.
The dual intensity formula means you can use the products either wet or dry so I chose to wet the pale shade for a glossy, highlight on the cheekbones, inner corner of eyes and brow bone, and then used the warmer tone (dry) along the cheek bones.
The result was really soft and pretty in person but on camera, the brown looks a little warm for my liking, even after toning it down with a pressed powder. Still though, it did the job, and in fairness - it is labeled as a blusher and not a contouring product.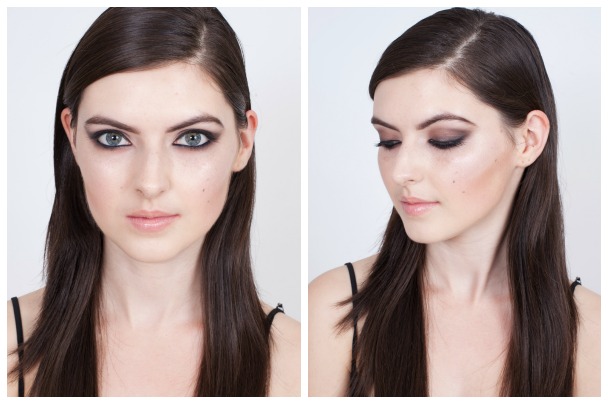 Moving on to lips, to get that nude tone Victoria Beckham is so known for, I buffed the tiniest amount of foundation on to neutralise Aoife's lip colour and bring down the natural pink then added Bourjois 3D gloss (€10.49) in Beige Elastic. 
Advertised
What do you think of our VB look? Will you be trying it out this weekend? Make sure to tweet us a pic to @beautie if so!
Photography by Emily Charlotte Greene // Make-up & Hair: Sarah Lanagan  // Model: Aoife from Distinct Management // These images have not been retouched or altered so as to give as true a representation of product colours & finishes as possible