 High shine, fast drying time, no chips, long-lasting and low maintenance and completely dry when you leave the salon- it's no surprise really that a two week polish is one of today's most in-demand beauty treatments.
Giving traditional nail polishes a serious run for their money, the service provides the type of high end and, more importantly, super-fast results that fit perfectly into the hectic schedule of today's busy woman.
So many people these days say that Shellac ruins their nails, but when it is applied correctly and removed correctly, there will be theoretically speaking be no damage to your natural nails.
But there are other factors that you should take into consideration as to whether it may or may not damage your nails. Remember, each set of nails is different it can sometimes differ from client to client.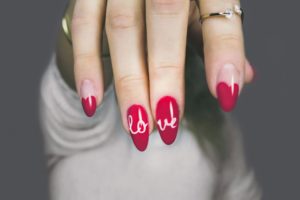 Know what you're getting
Shellac is a 2 week power polish meaning it is half nail polish, half gel. It is a form of permanent nail polish. And they say they are the original power polish that lasts 2 weeks.
Gelish is a soak off gel polish. It is hard wearing and can last up to 3 weeks. They know themselves as "The original brush-in-bottle, high-shine gel nail polish." Lasts up to 3 weeks.
Look after your nails beforehand
Any brand of "two week polish" is most successful on healthy nails. Using a good nail oil before and during is the best way to look after natural nails.
Advertised
The Nail Condition
If you have nails that are flaking or peeling, it's because they are dry, this is very common. Just like having dry hair and skin (your nails are made up of the same protein – Keratin), your nails can lack moisture.
Before your Shellac or Gelish is applied, a light and gentle buff will remove the flaking so we can hope for a longer lasting result. But what can often happen, is people don't look after their dry nails. And when the nails start to peel and flake underneath the Shellac, this is the reason it chips.
Protection
When you are doing any house cleaning, washing dishes or using any detergents remember that these are all drying your nails. You should wear gloves to protect your nails and to ensure your polish lasts.
Oil should be used throughout the duration. They have the ability to penetrate the polish and keep nails hydrated and strong which will stop them from chipping and breaking. Your natural nail will also be in good condition when it is removed.
Something to note – your nails don't "need to breathe". As I mentioned your nails are made of Keratin, like our hair, and doesn't need oxygen. You shouldn't need to take breaks from Shellac if you are getting it removed correctly (unless you want to!)
Stick to the two week rule
The optimum time between two week polishes is the 2 weeks, However, slow growing nails can go up to 3 weeks. The main reason is that after 2 weeks the polish starts to take a little bit longer to remove as it continues to harden. 2 weeks provides minimal nail growth, so the gap at the base is unnoticeable.
Provided nails are given regular hydration and proper removal is adhered to, there is no reason for a break. Nails don't breathe nor do they need a break from any type of coating.
Don't pick it off
As tempting as it might be, resist the urge to pick your polish off. Layers of nail will have been removed with it. So they will be soft, weak and break. If you had a strong nail beforehand, they will revert back to their original condition, but this is exactly what gives a two week polish its bad name.