 Gel nails as we know them may have had their day. The nail trend is strong, but this wonder product may be stronger.
Can you remember the time before everyone was getting manicures on a weekly basis? Neither can I. But on every third pair of hands I see (mostly female) there's an elaborate mani. On every second pair of hands, there are professionally groomed claws. I like to get my paws seen to by an expert from time to time - nicely shaped nails with neat cuticles and a clean polish is one of the easiest ways to appear like you have your shit together. But I can't think of anyone I know who has the time to update their nail look every week. Like, who are you people? I get a mani maybe twice a year as a treat. Who's with me?!
OK, ok, the abundance of nail salons in cities and towns around Ireland has made it so much easier to indulge in your self-care regularly. And if anyone is for treating yourself, you better believe that's me. But I imagine that getting your nails done all the time can become more of a chore than a nice thing to do. It takes time, it costs money, and there isn't a worse source of rage than when your polish bunches or chips on the same day it's applied. Also, nails suffer when subjected to routine manicures.
I am not a very good nail polisher. I need a lot of help to make it look somewhat presentable. This includes a really good nail polish brush, strong nail polish remover and Q-tips. A superior nail polish formula is also beneficial, and you can't miss a bottom coat. But the wonder product that makes all the difference is the CND Vinylux One Week Polish Top Coat.
CND
Advertised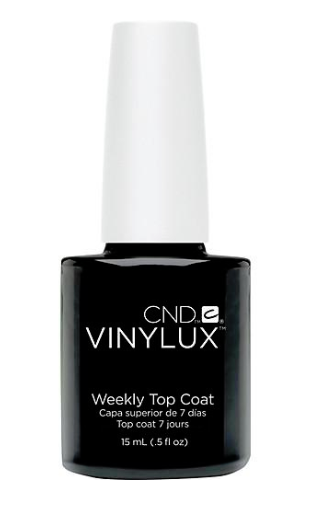 Vinylux One Week Polish Top Coat €11.95
Many 'gel effect' top coats have been released over the last few years, designed for professional looking DIY polish jobs, and this one is the best of the lot. It transforms nail polish. It makes it look brighter, thicker and all-round better. And, it keeps the polish from chipping and helps it set better. For the last while, I've been using Sally Hansen nail polishes - the brush is easy to control, and the polish consistency is quality. Sally Hansen has its own similar top coat, but I use my beloved CND. I can't claim that it looks professional because I'm no expert, but it's the next best thing.
If you're thinking about changing up your nail routine for the sake of your nail health - or indeed for the health of your bank balance - this little wonder product could be well worth the investment.