 I've probably mentioned a time or three that I'm a bit of a magpie, so I am close to hyperventilating with delight that the season where wearing glitter is practically compulsory is right around the corner of the calendar. There's no easier way to get your festive bling on than to whack some sparkly polish on your fingertips, but while party-ready nails are simple to achieve, all that glitter can make them a total frickin' nightmare to remove.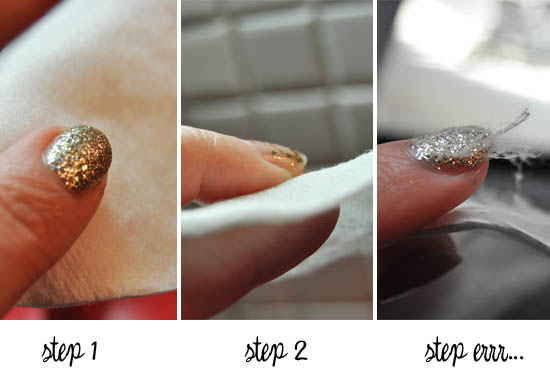 As luck would have it, a couple of intrepid beauty bloggers Down Under have come up with what just might be the ultimate solution to the pain in the hoop problem that is glitter polish removal. When Lauren of the Aussie Nail Bloggers Facebook group voiced her suspicions that Essence Peel-Off Base Coat looked an awful lot like PVA glue in a bottle, fellow group member and organic scientist Lab Muffin Michelle was prompted to take a gander at the ingredients list.
In other words (Michelle's): PVA glue, water, and preservatives.
Michelle and Alanna of Pretty Purple Polish decided to try DIYing their own peel-off base coat using bog standard PVA or craft glues. Both ladies wore glitter polishes atop the experimental base coats and reported that when it came to removal, the glitter polishes simply peeled away without causing damage to their natural nails.
Well. I was straight over to my Helmer to dig out a selection of heavy-duty glitters and some Mod Podge (a white non-toxic polyvinyl acetate based craft glue) faster than you could say "your nails look like an explosion in a disco ball factory" in hopes of recreating their success. Mod Podge has a pretty thin consistency, so I dipped an old clean nail polish brush right in the glue and painted a layer directly onto my bare nails. It went on white but once it had dried clear, which took a few minutes, I got busy putting on the glitz. (You could also add a regular base coat over the PVA at this point to prevent staining.)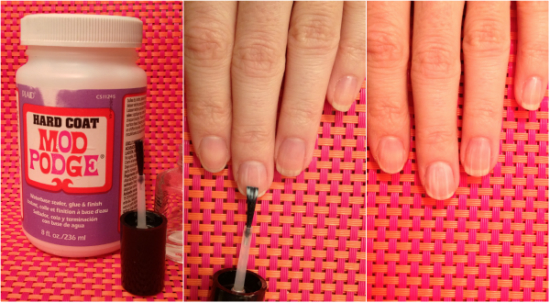 Advertised
I tried to pick a good cross-section of glitters to test at maximum opacity, so I used:
Barry M Red Glitter, 2 coats (red single shade fine glitter)
OPI Bring On The Bling, 2 coats (predominantly gold, small glitter with multi-coloured inclusions)
Angelica Brit Pop, 3 coats (mix of multi-coloured hexagonal paillettes and small glitter pieces)
H&M Jo Is In The House, 4 coats (holographic micro sequin glitter)
Ciaté Jewel, 3 coats (lavender holographic tinsel/string glitter)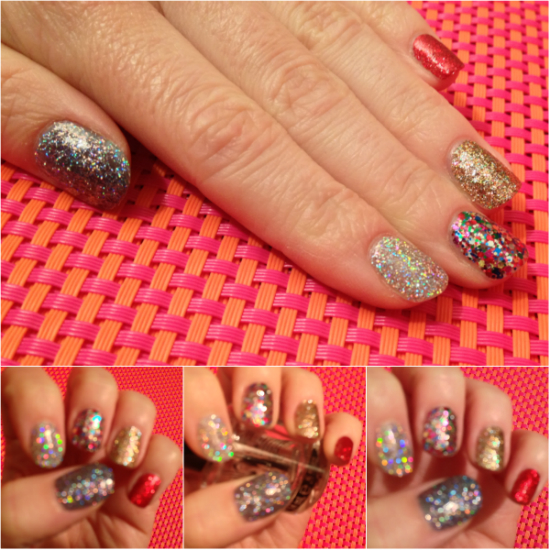 I finished with a top coat of Seche Vite, let it dry for the day, and then got down to the business of removal. I hadn't been so excited about taking off nail polish since my first go of Bourjous One Second Remover... which was, er, all of two months ago.
I may need to get out more.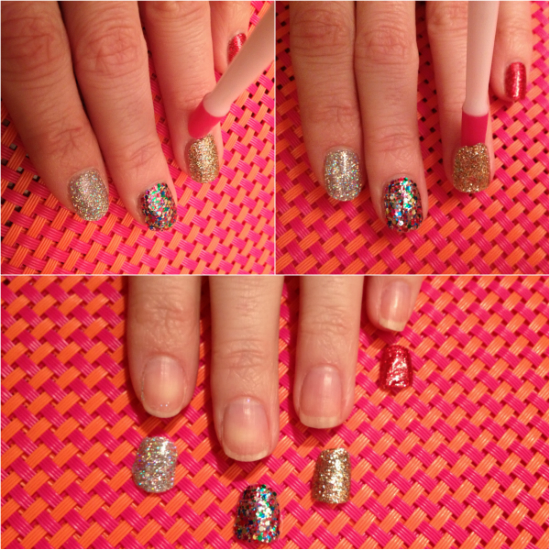 Using a rubber-tipped hoof stick, I eased the glue/polish/Seche sandwich off the base of my nails, gently working towards the tip, and was filled with absolute glee when each one popped right off with zero effort or force. I was done taking off my various glittery polishes in about 2 minutes flat. And I'm happy (and more than a little relieved) to report that my nail plate looked to be in perfect nick afterwards, even though my nails are prone to flaking and peeling at the best of times.
Uh-mazing stuff.
Advertised
Will you give the PVA "base coat" method a try if you're glitterizing your nails over The Christmas?
Ingredients listing image via Lab Muffin