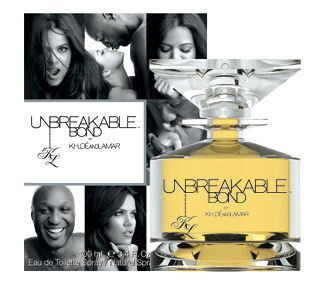 There are particular events that spell certain trouble for a celebrity relationship.  One of these is appearing in Hello magazine in a lovey dovey show offy photoshoot.  The other is appearing in a newly wed "look how much in love we are" reality TV show (remember Jessica and Nick).
And to these two things must surely be added a third.  Launching a unisex perfume called Unbreakable Bond.
Now I haven't had a go of this.  For all I know it might be the most gorgeous scent in creation.  But its description is a little puzzling  becaus apparently it "possesses a blend of Italian bergamot, sparkling clementine, Asian saffron, green apple, African geranium, sheer jasmine, lily of the valley, juicy red fruits, texas cedarwood, tonka bean, vanilla bean and dark chocolate".
So er how does that work then?  Is it not smelling of EVERYTHING?
Advertised
At least Khloe and Lamar have ditched the second series of their reality show (apparently NBC player Lamar hasn't been performing on the pitch and needs to concentrate on that), so that's a step in the right direction.
Now I know I'll be in trouble for writing about the Kardashians because so many of you can't stand them.  But I always feel a little sorry for Khloe and the constant mean comparisons between her and her sisters.
HOWEVER there's no excuse for the name of this scent.  Could you create a perfume with your new other half with this name and not feel a bit uneasy about it?
Or are you just sick to the back teeth of hearing about the Kardashians and couldn't give a frick what they call their merchandise?