 There's more in-your-face colour in this year's summer collections than I've seen in a while. I'm particularly taken with the aggressive (sometimes almost neon) pops of colour for lips. The range of available formulations and textures - from lip stains to highly pigmented balms -is brilliant.
And the new offering from Urban Decay is sort of a strange hybrid product, but it brings together gloss, lasting power, incredible pigment and moisturisation. There are loads of options with Revolution High-Color Lipgloss, which is why I find it so exciting. Generally, lip gloss is a one trick pony, but this is different.
 With fourteen shades to choose from, the range is pretty impressive. There are of course several sensible, nude or darker wintry shades that you could opt for, but it's summer (almost), the sun is out (sort of...sometimes...)!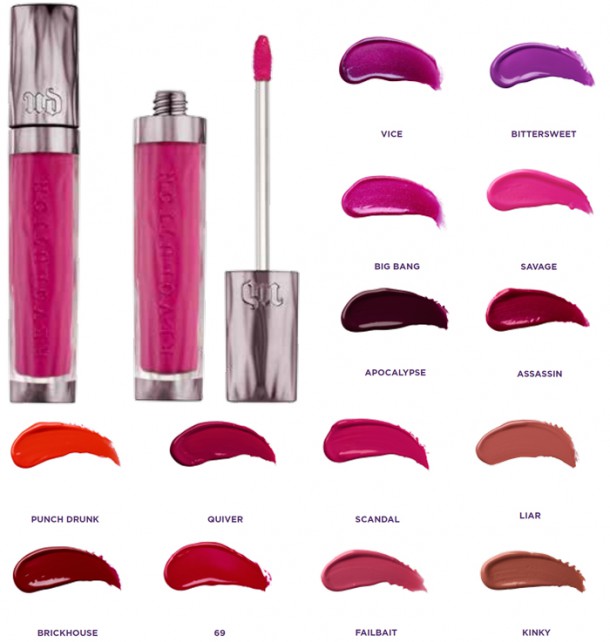 It's the perfect time to opt for something a little bit loud, and the formulation gives you the option of wearing this in lots of different ways.
The texture is incredibly soft and smooth, but strangely thick. It's really more like a liquid lipstick than a gloss. It doesn't dry down to a flatter finish, but this gloss isn't all that glossy - I'd describe the finish as being more like a shiny satin. It certainly doesn't have that wet look finish of a high shine gloss.
Advertised
 As far as I'm concerned, the fact that this is a little less glossy than a standard gloss is actually a benefit.
For one thing, the lipstick-like texture means that this isn't wet or runny. It goes on thickly, and it stays put. I deliberately tested Revolution High Color Lipgloss (Vice, above, is one of my favourites!) without lip liner. I didn't want to give it anything to grip onto. I was convinced that, without liner, it would feather and seep into the skin around my lips. It didn't, and I'm massively impressed.
Not only did it not feather, but it stayed put. I went off about my business yesterday wearing Punch Drunk, below, and when I finally got to a mirror after five hours, the gloss was still in place. It didn't look as fresh as it had when I applied it, but it hadn't disappeared from the centre of my lips in that hideous way lip products can.
And my lips feel lovely since I've been wearing this. I apply some balm first, and I never experience any tightness or crispy lips after wearing this for several hours. It seems to hold moisture in, and is just so comfortable on to wear.
 If you want to wear these without the shine, blot with some tissue and you've got yourself a pretty gorgeous semi-matte finish. 
Advertised
These will be available from May 1st at €19, and they have the Beaut.ie seal of approval!
How do you feel about glosses as opposed to liquid lipsticks, and how important is comfort for you in lip products? Do you like the idea of a hybrid product? To the comments!