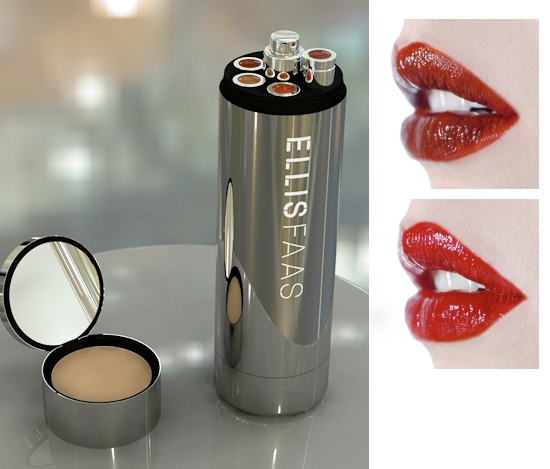 Perusing the Sunday Times Style mag on, eh, Sunday, I saw they'd flagged Ellis Fass' forthcoming Ellis Red (top right), a trio of liquid lipstick textures and weights modeled on the colour of blood, and as a result, apparently suitable for all skin-types. After all, the reasoning goes, we've all got the same colour platelets, regardless of race or skintype. In fact, everything by the brand is based on colours that by nature exist in the human body. Naturals fans will like the paraben-free formulations too.
Whatever you might make of this beauty-style body-con concept - gimmick or great - this is what I thought was the coolest thing about it all: the brand, an eponymous, extremely niche and oh-so-desirable creation from Dutch makeup artist Ellis Faas, is incoming into London's hip Liberty store in February. But good ole Mise Beauty in Dundalk have already gotten in there and have the whole range of products on offer right this very second. Yup, including coagulation-inspired lipsticks.
I put in a call yesterday to confirm that they have the line in and yep, they do. Prices will be as per the Ellis Faas website, so if you do fancy a flutter on that red that's promising to suit all, then it'll cost €25 and it comes in a long, slim chromed tube with one of those lovely velvety showerhead applicator nozzles. Revlon did a range of lipsticks using that type of dispensing system a few years ago and I loved them - it's a fabulous way to use liquid lipstick.
Advertised
I think I might eschew Ellis Red (it looks a bit, well, dull, for my tastes) and check out L103, bottom right, instead. Much more up my bright-boulevard, really. I also really like the concept behind the Ellis Holder, €25, shown left. Designed to hold up to eight of the brand's products, its capsule-tastic ways are just a super-cool way to store and transport your slap.
While the Mise Beauty site isn't transactional at the moment, you can give them a call on 042 935 7567 to organise mail order delivery, or if you're in the Dundalk area then you're quids in, and can stroll in for a wander and a swatch or two