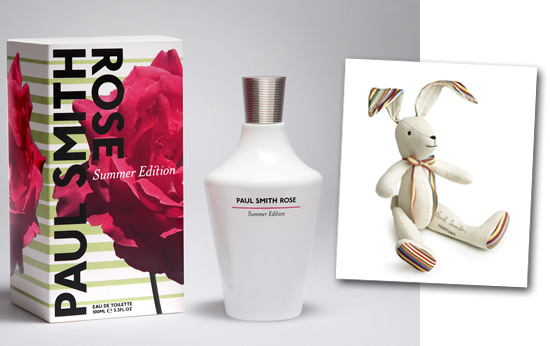 Not got the sheckles for a Paul Smith rug? No, me either, and I'm making do with my faux-alike IKEA job until I win the Lotto, or achieve magnificent wealth by some other means.  It'll have to be nefarious means, the way I'm going.
BUT! My hankering for Smith-stripes can be assuaged this summer because right now, if you buy a bottle of the designers' newest edition of his Rose fragrance, you'll get the bunny (Paul Smith's mascot) absolutely free gratis!  He's got signature stripes, bendy legs and ears and he's a good size - about a foot in height.
Summer Edition comes in a new 'n stylin' white glass bottle and as the name might have hinted to you, it's a rose-based scent that's very light, pleasant and perfect for day. In this version, the woody and lemony aspects have been heightened, giving a new twist to the fragrance.
Advertised
Find it - and the bunny - at department stores now, for €39 for 100ml.