 We recently featured the Vichy Aqualia Thermal range, which is a brilliant all rounder for younger skin and a great option for dehydrated skin at all ages. It's not an anti-ager though, and that's reflected in its very affordabe price tag.
The Idéalia Life Serum contains the LR2412 molecule which is contained in the uber-famous Lancome Visionnaire Serum. The Lancome serum has a concentration of 4% of this ingredient,while the Vichy serum contains rather less. However, the Lancome serum will set you back €73, while Vichy's offering is rather more affordable at €38.50!
The Idéalia Life Serum has the added benefit f LHA, which is a really effective ingredient, even in low concentrations. Basically, it operates like Salicylic Acid. Because it's lipophilic, or fat loving, it is oil soluble. This is why it's an excellent exfoliator; it can dissolve the oily blockages in pores and get down into the pore to reduce the levels of bacteria down there. That's why you'll find LHA in a lot of acne products. Don't underestimate its benefits to all skin types though! Anything that keeps pores clear and helps cell turnover is hugely beneficial to everyone.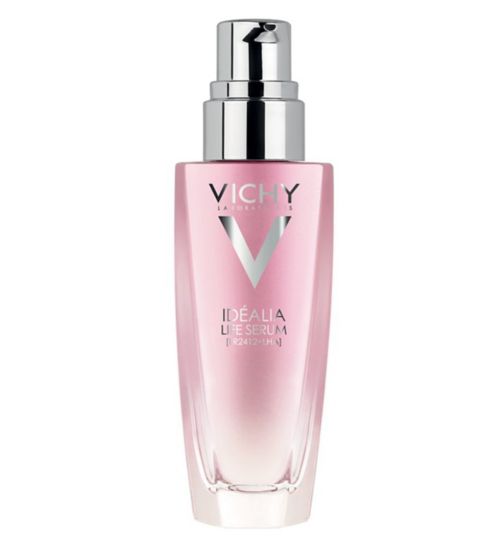 The consistency of this serum is just lovely. It is scented, so if that's a no-go for you then avoid this product, but the scent is light and pleasant; almost floral. It is richer than the Aqualia Serum, which is purely for hydration, but it still sinks effortlessly into the skin and works beautifully under both moisturiser and foundation.
Advertised
In what I think is a lovely touch, it's pearlescent. Don't worry - there isn't even a hint of sparkle; just a soft pearl finish which, when massaged into the skin, looks radiant and catches the light on the high points of the face.
If aging well (because there ain't nothin' wrong with aging) is a concern for you, this is a great buy which  punches utterly above its weight in terms of ingredients. Remember that serums are the most potent topical products that you can use in your everyday skincare regime, so you're missing out if you're not using one!
Have you tried this, or are you liking the look of it? Let us know in the comments!