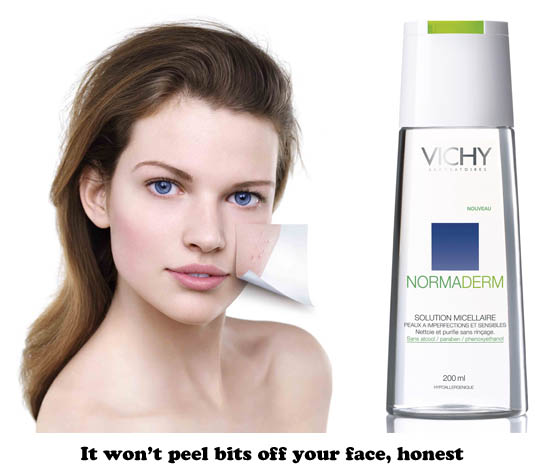 Vichy's otherwise excellent Normaderm line has long been sorely lacking a cleanser that's capable of removing make-up, but it looks like the brand may just have successfully plugged that gap: a water-alike cleanser specifically tailored to sensitive, imperfection-prone skin hit shelves last month.
Normaderm Micellar Solution, €13, sits squarely in the "pour onto cotton wool and wipe" cleanser camp, and Vichy say that it does away with grime, excess sebum, and all traces of eye and face make-up while calming irritations, soothing and hydrating sensitive skin, and ultimately leaving it feeling comfortable and refreshed. Anti-bacterial and purifying zinc pidolate helps to regulate sebum production, and as part of Vichy's safety charter, the alcohol, soap, colorant and paraben-free formula has been tested on sensitive skin and eyes under dermatological and ophthalmological control.
It sounds great and performed well in clinical tests, but to see how it would fare in the wild I had to give it a whirl for myself. First things first: I have to admit that I'm not a fan of cleansers of this ilk or the mounds of cotton wool waste they leave in their wake, and prefer emulsifying balms or oils that can be removed with water or a damp muslin cloth. In fairness, Normaderm Micellar Solution didn't seem to leave any sticky residue on skin, make it feel dry, or irritate eyes in the slightest: I forgot that I was wearing my contacts one day and used it with no adverse effects.
Advertised
It took three or four passes with cotton wool pads soaked in the solution to remove an evening's worth of make-up and for my skin to feel clean, but to be honest it didn't feel super deeply cleansed even at that: there was definitely smidges of non-waterproof mascara in evidence some mornings after using it.
Still, I'll keep it and a few cotton pads beside the bed as a cleansing wipe substitute for late night emergencies!