 Blue eyeshadow is not scary anymore if Victoria Beckham is to be believed.
New York Fashion week has just come to a close, making way for London to have their turn. NYFW gave us a glimpse of some of the biggest trends for next season. Blue eyeshadow is continuing to be a popular choice. One of the looks that caught our eye came from Spice Girl turned fashionista: Victoria Beckham.
With her Estee Lauder collaboration hitting stores next week, it was no surprise that VB would choose to showcase one of the more look-at-me shades from her collection on the runway. The cobalt blue eye shadow (Fired Sapphire) features in the eye palette along with shades of grey, bronze, nude, brick and emerald.
Blue eye shadow isn't everyone's cup of tea as it is, but a stripe of it? You probably think I'm mad. I'll admit, while it certainly makes an impact for the runway, it's probably not going to be your go-to look for Friday night. But, a little tweak in the shape can make all the difference.
Advertised
Here, I created a slightly more winged effect and it looks a lot more wearable. Of course, you could pare it back even more to a simple eyeliner flick, which would look just as nice.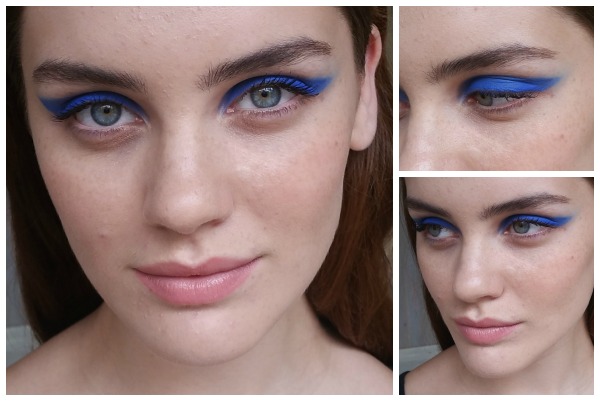 Abby wears Rimmel Magnif'Eyes Double Ended Eyeshadow & Liner in Cobalt €9.99
VB x Estee Lauder
The VB x Estee Lauder products won't launch here until 18th September. Instead, I went for Rimmel Magnif'eyes Double-Ended Shadow & Liner (€9.99) in Cobalt, the perfect product for experimenting with if you're unsure about whether blue is for you.
The addition of the grey shadow means you can tone down the cobalt if you wish. Or, use it as an accent along the water line. For anyone who quite simply won't wear blue, I really love Queen of Bronze, which has a shimmering gold liner.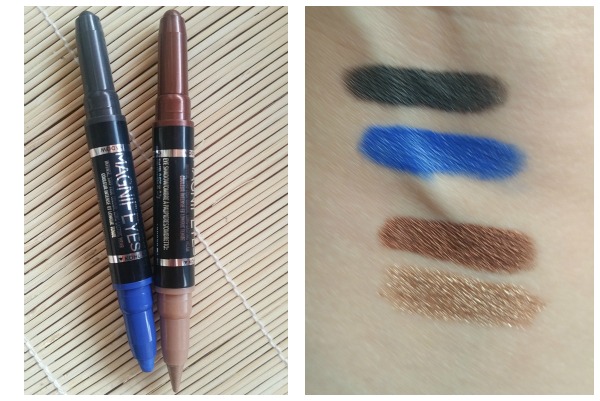 Advertised
Magnif'Eyes Double Ended Shadow & Liner in Cobalt and Bronze €9.99
Seems like blue eyeshadow is going nowhere. Will you rock the blue look anytime soon? Are you excited about the new VB x Estee Lauder collection?