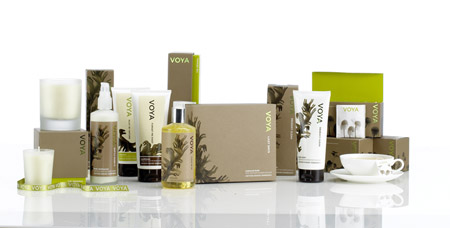 One of the best things about Beaut.ie is the fantastic goodies we get to try. All the new stuff, the latest, the greatest. Sometimes the not so great too - but what can I say except we suffer for our art sometimes.
I can't wax lyrical enough about Voya though. This is a fantastic range. Organic, natural, cruelty free, using only top notch ingredients, it's made by the owners of the Strandhill seaweed baths. Which I know many of you have visited and loved.
So it's no surprise to learn that this range is seaweed based. And therefore, natural, pure and detoxifying. The first product I tried was the Squeaky Clean Body Wash - so fab. If I had to compare it to another shower gel I would say Bliss Soapy Sap, which I love. But this is way nicer. Sharper, zestier, zingier.
Advertised
We'll be telling you loads more about Voya and we've got a great competition coming up!
UPDATE: Buy from fancy spas like the VOYA seaweed bath in Strandhill, Sligo; Selected Avoca stores; Seagreen in Monkstown; Nue Blue Eriu; Bellinter House; Dromoland Castle, and soon online too, at www.voya.ie. No price info yet, but we are on the case!
UPDATED UPDATE: Squeaky Clean (200ml) can be yours for 16 eurobucks
Get Beaut.ie Delivered
Stay updated with Beaut.ie newsletters full of the latest happenings at Beaut.ie as well as great offers and things we think you might find interesting .