 SPONSORED POST
Forget diamonds, I sometimes think that mornings are my best friend. I've heard that I'm at my tallest in the morning as I fight the good fight against gravity. And I've also heard that I'm at my lightest in the morning so I try to make sure that those monthly assessments with my personal trainer are done within five minutes of me leaping from my bed (look, at least it ensures I sprint to the gym on those mornings).
And my skin looks at its brightest in the morning as I shake off those last tendrils of sleep. But as the day goes by, my skin has the tendency to tell some sleepless tales on me. I want my skin to look wide awake from morning until night, to keep that freshness and radiance until my pyjamas and I are reunited.
I would like to tell you that I get the recommended eight hours of sleep every night in the same way that I would like to tell you that I don't have a weakness for donuts. But many of us lead hectic lifestyles and we're on-the-go from morning until night as we juggle work, relationships, family, exercise and the odd donut.
All this activity can cause tiredness and this, in turn, takes a toll on our skin. It can result in the appearance of premature wrinkles and fine lines, and we also have to battle daily skin aggressors like a cold climate, UV rays and pollution.
In fact, recent research by Garnier shows that tiredness can make you look older by up to five years.
Advertised
And Garnier have just launched their Miracle Wake Up Cream, a cream that's designed to re-awaken the look of tired skin right throughout the day.
This new anti-fatigue and anti-ageing cream battles tired looking skin in three ways:
Hydrates skin all day long and provides a protective barrier against external aggressors
Leaves skin radiant, fresh and looking revived
The smoothing texture optically blurs fine lines and wrinkles.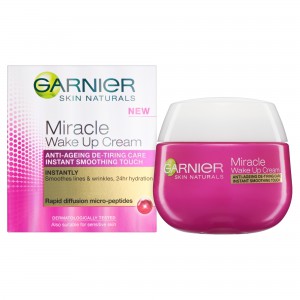 Apply to cleansed skin every morning (and check out the Miracle Sleeping Cream for evening use) for instantly smoother, well rested and re-awakened looking skin.
Whatever life throws at you, fight back with a solution designed especially for women who want to live life to the fullest with no compromises. Unless the item being thrown is a donut, in which case you should catch it, take a five-minute break from your busy day and just enjoy.
Advertised
Do you get the recommended eight hours sleep every night? And does your skin tell sleepless tales on you?
Find out more here: Garnier Miracle Wake Up Cream.