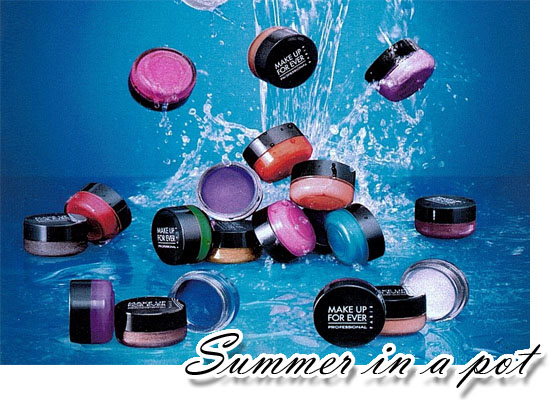 Y'know, this sore back thing has me in a total heap (to be pronounced 'hape'). Forgetting things, misspelling things and struggling to appointments hours before the appointed time are just some of my valium-related bloopers this week.
Entirely mis-reading the invite from Make Up For Ever for their Aqua products launch which was due to start at 12pm, I limped up at 10am, much to the surprise of all at the Clarendon street branch. Sorry peeps! I also missed out on getting some to try but did have the presence of mind to stick my fingers into a couple of the new Cream Pots they had on display before I went home and gobbled some more Difene, whereupon I offered up a prayer to the god of pharmaceuticals.
The brand already has a few Aqua products in the lineup like their famous Aqua lip and eye pencils, but these new pots are designed for use on face and body and they are super-duper-whooper creamy and hyper-pigmented. Waterproof, natch, they come in 22 shades at (I think - th'aul memory's a bit hazy) €21 a pop. Think super-sharp slashes of colour, liner or smudged out and blended for softer effects, you'll manage it all with 'em, I reckon.
Also incoming are the new HD blushers - I had a goo of these too. Beautiful. Thick, siliconey textures in wearable shades with a great colour palette will be on-counter soon. More info when I have it!
Advertised
A shot of the Aqua Cream Pots colour range is after the cut.