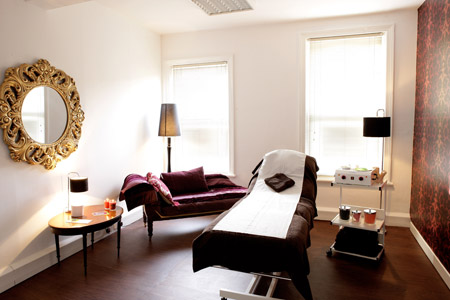 It's happened, at one time or another, to most of us. There's usually no warning, no whisper of a hint of an indication, that some life-changing loss is on the cards. When it does finally blindside you, you're left bewildered, wondering how the hell you'll ever get your life back in order.
Oh yes, the discontinuation of a beloved product or sudden departure of a favourite therapist is a terrible, terrible thing altogether.
My worst ever experience of this class of bereavement happened months and months ago, when the lovely Ellen Kavanagh left Brazilia. This was awful on a number of levels: Ellen was, hands down, the best woman to wax I'd ever come across, but she was also genuinely the nicest therapist I'd ever met. While others would be hard pressed to recall that I'd ever been in before, even with their nose in a list of my previous appointments, Ellen actually remembered me from session to session, asking how we were finding the new house or if I'd decided what to do about going back to college or if the mad one in work was still a headcase. So I think y'all can appreciate how totally gutted I was to lose her.
Not knowing where she'd vanished to and with her former employers not prepared to spill the beans on her whereabouts, I had to find A New Waxer. This was, no word of a lie, traumatic. The counselling is helping but really, I'm only beginning to get over the whole ordeal. There were run-ins with strip waxing of the bikini area. (And oh sweet merciful hour, the pain of it.) There was the salon that told me not to worry, my therapist would "do all that if it was necessary" when I awkwardly enquired if I should do a bit of a trimming and tidying before my appointment because it was so long since my last defuzzal.
She didn't, though. She left the hairs good and long and Yeti-like, and proceeded to strip wax my nethers to within an inch of their life while wearing too-big plastic gloves that stuck to the wax and didn't let her get a decent grip on the feckin' strips. Afterwards, I just wanted to get the hell out of there so I lepped into my clothes and hightailed it home... which was where I realised I'd been left with just a little postage stamp sized square of hair that reminded me of something... what was it now..?
Advertised
Oh mo Dhia. It looked like Hitler's moustache.
And on closer inspection, it wasn't even all the one length! It was a little lopsided combover version of Hitler's tache. Yer woman obviously couldn't see what she was doing since she never bothered with a pre-wax trim (which I'd have shagging well done myself only I was told not to!), slathered on the wax with gay abandon and her eyes closed, and then decided not to do a trim afterwards so as to sneakily disguise her handiwork. It looked so ridiculous that I decided to go all out with a home Hollywood - yep, that's the one that's Totally Bare Down There - courtesy of Immac.
After a few similar salon encounters and a number of disastrous attempts at home bikini waxing, I decided to just go natural, which I'm sure Himself was thrilllllled about. I had just about resigned myself to a life of knickers-in-the-style-of-boy-shorts and trunkini swimwear when, through the magic of Beaut.ie, I discovered that Ellen was not only still in the country and still waxing away, but that she was on the cusp of opening her own place!
So I hotfooted it out to Ellen's shiny new waxing emporium, Waxperts in Dun Laoghaire, last Thursday. The premises has been carefully renovated and feels so welcoming, with wallpapered feature walls, dark wood flooring and opulent touches like fancy mirrors (Baroque? Roccoco? Lovely anyways) and plushly upholstered chairs offsetting the white walls. The lighting in the treatment rooms is low and flattering and adds to the cosy boudoir feel, making derobing a not-actually-too-unpleasant experience. Wondering what Judge Judy was on about today (oh, did I not mention the flatscreen TVs?), I settled under the fluffy chocolate-coloured towel protecting my modesty and pondered how anyone could keep their workspace so clean and tidy - I could have eaten my dinner off the trolley beside the bed that bore all of the necessary waxing accoutrements.
And how did the waxing by a bonafide Waxpert go? Well, I booked in for my next appointment before I left! This is a salon that is committed to excellence and it shows: absolutely no double-dipping goes on within its walls, gloves which actually fit properly are worn, and a super-wax which Ellen has actually created herself, if you don't mind, is used because she seriously wants the best of the best for her clients. Furthermore, thanks to Ellen's expert touch, there was none of the unbearable pain I was expecting having gone so long without a wax. And because Ellen herself is so nice, so friendly, so approachable, and so incredibly enthusiastic about waxing, there's simply no embarrassment factor!
Clients are coming in from as far away as The Back Arse Of South County Wicklow and Birr, Co. Offaly (that's a whopping 310km round trip), and frankly, boys and girls, if you want the best all-round waxing experience ever, so should you.
Advertised
Waxperts, 78A Lower Georges Street (above the EBS), Dun Laoghaire, Co. Dublin. Phone (01) 2140757. See here for pricelist.