 There is little I love more than a good old snoop through someone else's makeup bag - with permission, obvs, I'm not a complete gobdaw! So today I'm returning the favour and doing a virtual dump of my makeup bag onto the bed, for you to rummage through to your heart's content.
I'm not quite ready to adopt autumn trends just yet so the khaki eye shadow and berry nails have yet to come out to play; instead, I find myself reaching for a more neutral colour palette on a day-to-day basis.
I'm have a massive love-in with nude lips right now and loving Clarins lipliner in #03, Nude Rose, €17.50, with either the Clarins Joli Rouge Lipstick in #751 Tea Rose, which is €22, Bourjois Rouge Edition in Beige Trench, €10.99, or – the one I'm wearing here – Clinique Pop in #02, Bare Pop, which is €19.50.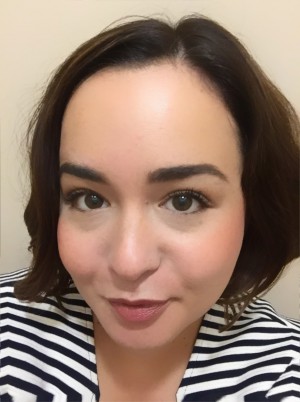 Whenever I've bothered to wear eyeshadow to work, it's been the L'Oreal palette I showed you here – no, it's not the most intensely pigmented but that's why I like it; it allows for a fast, soft, sculpted eye with minimal effort and very little fear of harsh lines.
Advertised
My trusty Clarins skin-perfecting BB cream (€31.50) is a staple of my work-makeup wardrobe; we've been raving about it here and it's still one of our faves.
Brows are taken care of by the new Urban Decay Microfine Brow Pencil and Brush €18.50, in neutral brown – I really like that the shade's neither too cool or warm-toned.  I've been rotating a few MAC mascaras in an effort to find my favourite from the brand and I've been kind of whelmed overall – but I'm liking, and using, their Extended Play Gigablack Lash mascara, which is €18.50.
The Hourglass Ambient Lighting Blush in Mood Exposure gives a lovely neutral, plummy glow which works well with all this pared back minimalism. And that's it!
Are you rocking any of the autumn releases yet or have you been shopping your stash? Anything you're loving the bones of at the moment? And is there a Mac mascara that you're rating and I really, really have to try?