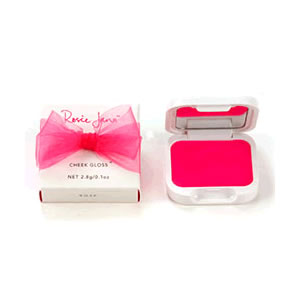 I blogged about Vanilla Cotton last week, an Irish website which is devoted to bringing us the best of beauty from far flung corners of the globe. We were lucky enough to get to sample some of their wares, and actually they were all so nice, it's hard to know where to start! But hey, I'll make a brave attempt, and tell you all about the gorgeous Rosie Jane Cheek Gloss in Poppy I've been using.
I'll preface this by saying: I LOVE THIS PRODUCT. Oh, it is gorgeous. They had me at the packaging anyway, but the product itself is wonderous. If you're a fan of cheek tints then you'll love it from the get go. And if you've never used one, I strongly urge you to try. The colour is sheer and buildable, so you really can control how much or how little you use. I know it looks wildly vibrant in the picture, but the colour isn't opaque, so it's just a fresh looking flush when it's on the skin. It looks good enough on my winter-pale skin, so I can only imagine how it pops with a tan.
Advertised
Use on bare cheeks or with foundation, each is equally as nice. It's available in 3 shades, the bright pink above, a darker pink (poppy, which I tried) and a tawny brown shade, and each costs €24.50. I want the other two!