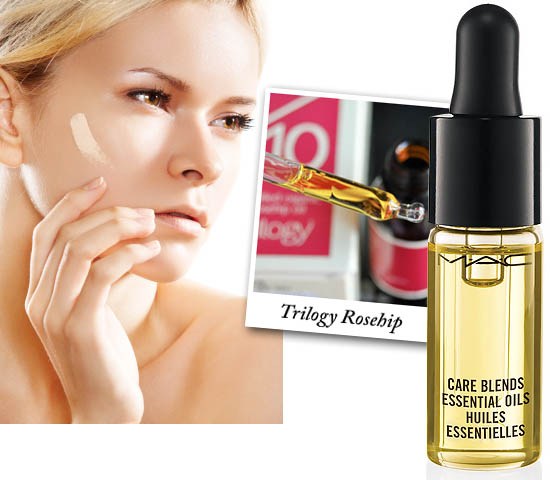 This is a bit of a game changer for those with dry skin, but it's one several people have mentioned to me, most recently a Mac artist in relation to Matchmaster foundation, which I commented to her I felt wasn't at all suitable for my skin because it was just too drying and clung to all those flaky bits. "Add a little facial oil," she said knowingly, recommending Mac's Care Blends oils. "You'll really see a difference."
It's a tip I've heard several times before - I know a couple of people who add a drop of Trilogy Rosehip into their foundation before they apply - and while it may not work with all bases (those heavily formulated with silicone for example may not behave brilliantly) it's certainly worth a go if you're suddenly finding that your skin and your foundation are refusing to play ball.
The oil adds a bit of extra emollient-y goodness and glide not to mention the nourishment and hydrating properties of the particular oil you've picked.  It could be anything - a basic argan, a rosehip or a blend like one of Clarins' offerings. You don't need much either - a small drop will do, mix in on the back of your hand and away you go. Apply with fingers or a brush: it's up to you.
Advertised
There's no need to adjust the rest of your routine either, you'd do your regular cleanse, tone (if you do) and serum/ moisturiser shenanigans and then apply makeup as normal.
Will you give it a whizz now that it's suddenly Baltic outside?