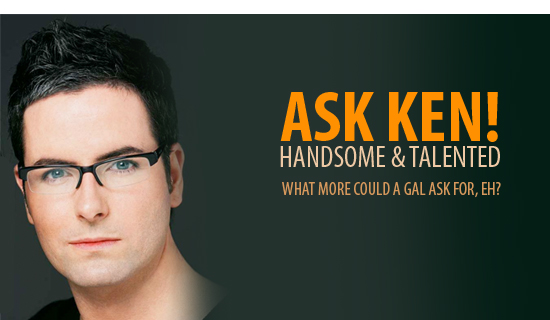 We had part one of Ken's two-post series dedicated to your beauty blunders and cosmetic crapness late last month, so here's part two. Has Mr Boylan tackled your query? Read on to find out!
What can one do with 'deep set' eyes? I can't do proper smokey eyes as you can't see my eyelids at all. Unfortunately I can't emphasize my lips instead as they are huge already, but eyeshadows just never show on my eyelids.
If you have deep set eyes, apply a block of color on to your eyelid, and then blend with the blending brush all over the eyelid and into the socket. If you blend it well enough it will move slightly above the eye socket and will make your eyes slightly bigger. Also what you can do is to emphasize your bottom lid with shadow once again to open the eye and if you get a very shimmery eye shadow and apply on to the ball of your closed eye and open it, it will give a sort of shinny 3D effect when you blink. This will make the eye look beautiful.
How can you keep a shiny t-zone at bay and stop it appearing almost as soon as you've applied your face?
Advertised
Before you apply your foundation make sure that your face is completely dry of moisturizer and then apply your base. You also need to invest in a pressed powder and a good quality brush. Apply the powder to the T-zone whenever you see a shine to keep the foundation on for longer.
Think about switching to a moisturiser that's right for your skintype. A really good foundation for oily skin is Stila Oil Free foundation, which you can get online at HQhair.com. It's really good, because although it's oil free, it's not chalky and gives a natural glow to your skin.  A good pressedpowder will help to keep the shin away too - try ­L'Oreal True Match applied during the day.
What, in your opinion and with your experience, are the top 5 make up products that every girl should have in her make up bag?
First thing would be foundation: ­ my favorites would be Face & Body from MAC for daytime or Armani Lumini Silk foundation for nighttime.
A brown coffee-colored eye shadow such as Espresso from MAC, because you can use it in two ways: as an eye shadow or you can use to define your eyebrows with a slant-headed brow brush.
Cream blush, as you can use it on your lips and cheeks: Peony from Stila which is a convertible color, Lychee from MAC or Jemma Kidd's cream blush are good choices.
Mascara is also a must have ­ My choices are Lancome Hypnose or Rimmel Thousand Lashes mascara.
Finally, a lipstick with a bit of shine in it - I would recommend Armani number 10 sheer or Rimmel Heather Shimmer.