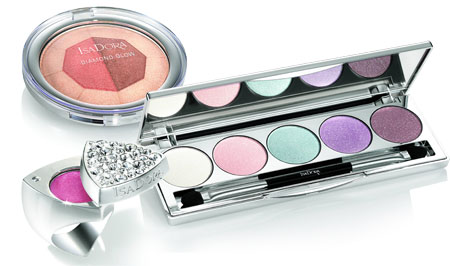 IsaDora, a Swedish makeup brand that's found here in pharmacies, has always seemed to me to be a little off the mark. A lot of that was to do with heavy-handed advertising visuals - I've yet to meet a woman who wants to rock yellow/green/orange eyes and thick pink gloss, and that's been an unfortunate feature of some of their previous branding.
But I'm impressed with their new Dazzling Diamond collection. While I've yet to try the products, I  think the visuals look great, in particular that fab-looking silver plated Swarovski Crystal-encrusted Diamond Ring Lip Gloss in Plummy Plum, which is - wait for it - a mere €11.95. The other product I'd like adorning my makeup bag is the Diamond Eye Shadow palette in Millenium Star, which, at €19.95, is a whisper under €20.  Five metallic shades and a big mirror mark this one out - and what a nice stocking filler it'd make, eh? Plus if you're keen to try this season's trend for purples, then the pink, mauve and white shades will do the trick nicely for a defined eye.
Advertised
The last product? It's a shimmer brick-esque face powder called Diamond Glow in Precious Jewel, which is €15.95. All three will be in stores from this week and will remain on counter until February.