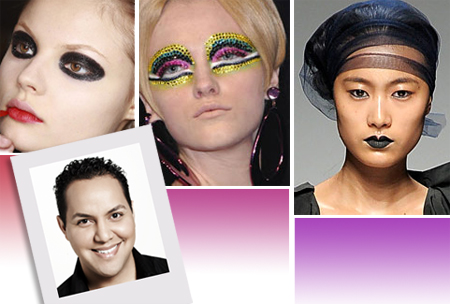 Let me just start this off by saying: I LOVE Daniel Chavez, so there'll be no ambiguity as to my feelings throughout the rest of this post.
He's Smashbox's fabulous director of international artistry and training and I've met him once before. The fact that he remembered my name (yes, he was probably primed as I walked through the door, but sure we'll ignore that), was a very nice touch from this very busy fella: he'd just gotten off a 13 hour flight from South Africa - just one of the many commitments he has as the brand's training guru.
Getting to chat with Daniel is always a treat - he's gas, full of stories and anecdotes, as well loads of very useful info. So, I decided to quiz him on catwalk beauty trends, and just how us mere mortals can go about wearing them. Black lips; letterbox liner and glitter-to-the-gee are three Autumn/Winter looks most of us just can't hope to pull off, so read on for his tips on how to interpret mad-seeming catwalk trends.
Advertised
LETTERBOX LINER
What the feck is this when it's at home? It's a super-stylised take on the dark eye, and goes all around the eye area and on to the nose. Your eyeball is, effectively, the place the letters get posted. Let us fervently hope that it's a slow mail day, so. Daniel's deconstruction? "This is the season trend for an intensified smokey eye", he reveals.  "It's not just a smokey eye on the lid though, they want you to wrap it around the eye and up into the eyelid", he adds. "The more the merrier goes here - smoke it up. Dark dark dark is in". Think Eva Green in Casino Royale. And then add some more. For soft, pigment-packed shadows, you cannot beat NARS, in my opinion. The new-season Cordura shadow duo is ideal for a chocolately eye.
EXPLODING GLITTER-BALL
Who hasn't experimented - badly - with metallics? You're finding glitter particles for days afterwards, your other half moans at you for covering them in silver spangles and in photos you look like a mental case. Wearing metallics is hard, gals. "Do it in a liner", Daniel advises.   "It's much easier to use, and a much better interpretation of metallics all over the eyelid, like you'd see on the catwalk", he finishes. Try Too Faced or Stila's pretty glitters for a slick of sparkle that won't overwhelm.
THE BLACK LIP OF DEATH
"You can't wear black lips", declares Daniel, adding "but the dark lip is ridiculously in". What to do? "Get into a brown lip, or a berry lip - something a little deeper and darker", is his recommendation. Part of the forthcoming Smashbox Wicked Lovely collection is a gorgeous brown cherry gloss that's deep and gold flecked, and will give you the look of the season without a big colour commitment. If you're choosing lipstick - and I showed you an ideal Revlon bullet the other week - then the key is application. "No liner, and pat it on gently with fingers for a stain of colour", says Daniel.