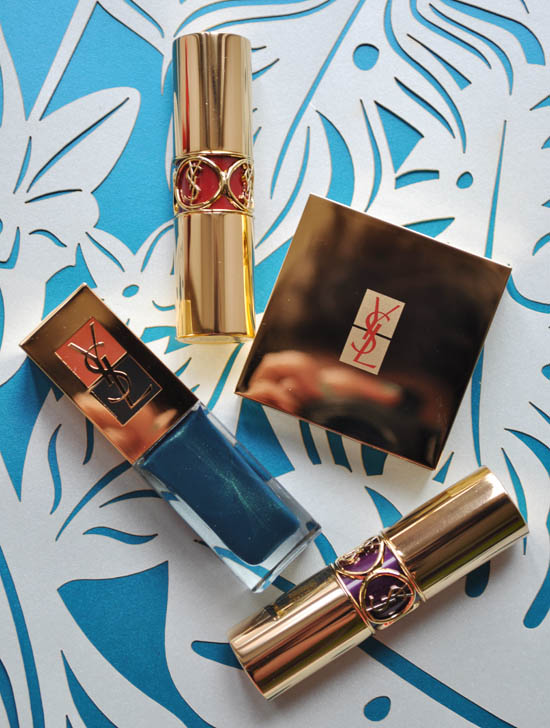 Yves Saint Laurent's opulent autumn collection lands on counters from August 17th and is as great and good as we've come to expect from this most gilded of beauty brands. YSL is one of my very favourite companies and I always anticipate its collections hugely.
Everything's top drawer: packaging, presentation, formulations, concepts, colours and finishes tend to be exemplary and Midnight Garden's a sort of confection of Studio 54 meets tropical garden meets expensive mistress with DRAMZ eyes. The vibe's exotic and OTT, so naturally this pleases me.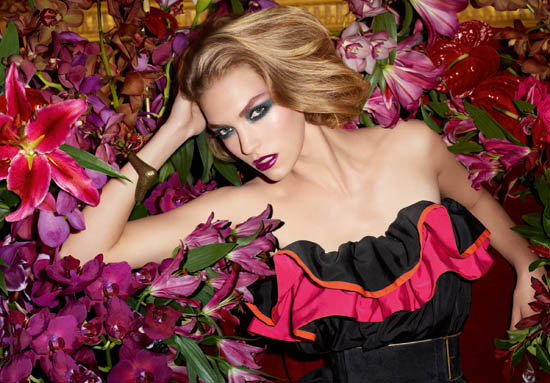 See what I mean? Totally delicious visual. Check its ways. Yum.
The hint from this is that there's lots of vampy drama on offer - and there is, with scads of deep colours for eyes and lips. This collection features six cheek colours and two knock-out nail shades too.  So, lets move swiftly on to the products.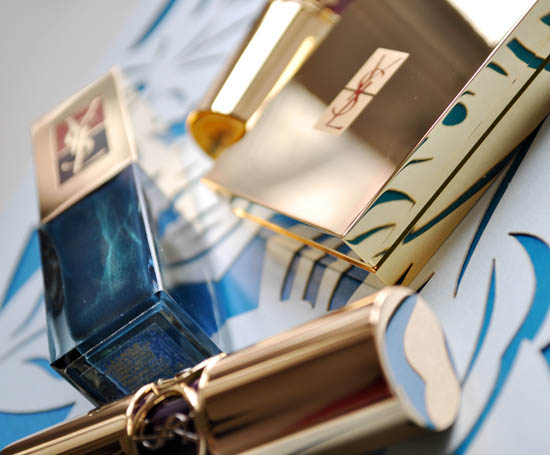 Sorry, couldn't resist taking lots of shots of the Gold and the Shine. That fancy paper they're sitting on is actually the press release for the collection, would you believe? Nope, no expense spared.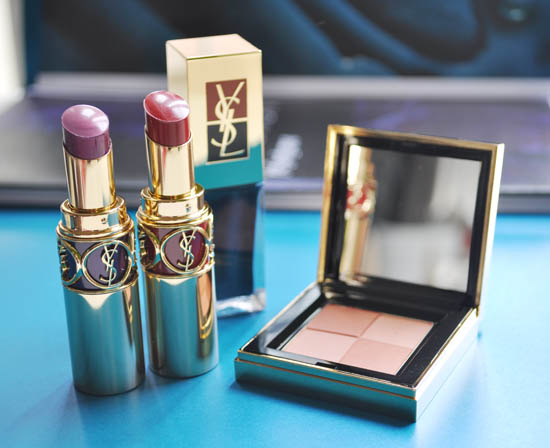 And yes, this is a luxury line. YSL puts as much into making its products look beautiful as it does into ensuring they make you look pretty damn fab with it. You do pay extra for that, which is partly why prices are high. Formulations, the brand name and positioning are other contributory factors.
I know not everyone can indulge in these beauty buys, but we can all drool over the makeup porn, right? Above you're looking at four pieces the brand sent me ahead of the launch. I have two Rouge Volupte Perles, one Blush Radiance and a La Laque for your viewing edification and amusement.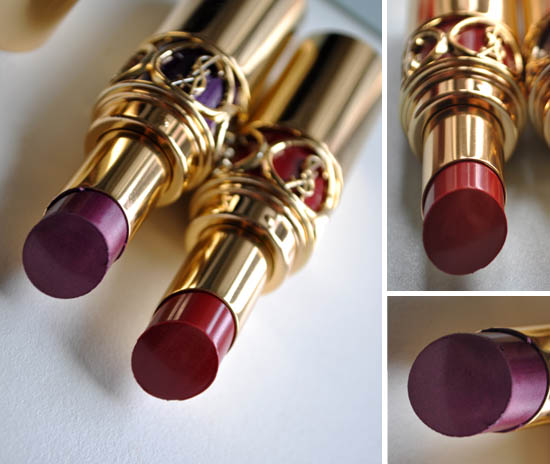 Rouge Volupte Perle in 111 Mysterious Red and 112 Spellbinding Violet, €31 each. This is a lighter formulation than my beloved Rouge Volupte and has pearlised shimmer in the mix as well as no mirror on the lid to differentiate it from the heavier, creamier Volupte offering. In fact, both of these are fairly opaque and non-pearly, thankfully. I like and accept them into my makeup collection. I am sure the brand are delighted.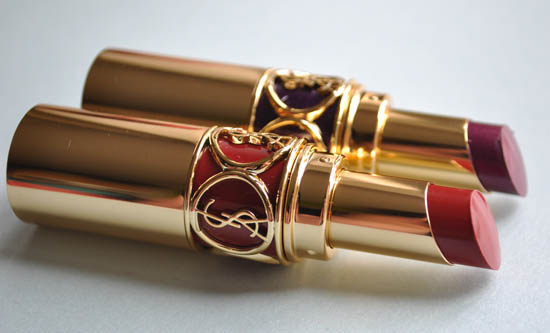 Psst: they smell amazing. Like fruity sweets!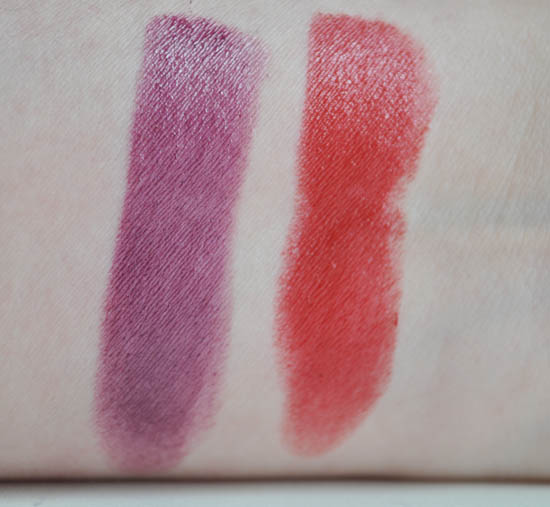 And here be swatches - thankfully a bare minimum of shimmer and good coverage properties here.
Advertised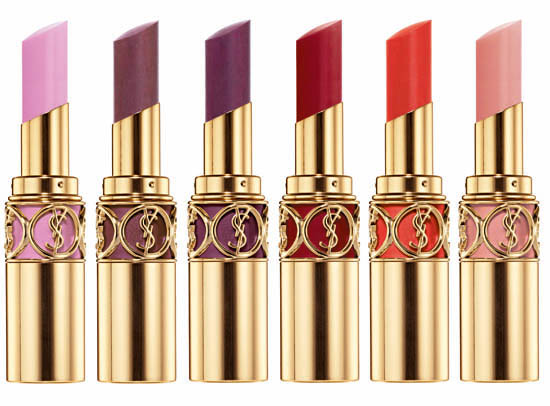 This is the entire Midnight Garden Rouge Volupte lineup - Ireland's only getting four of 'em. The above two and R107 Impetuous Beige as well as 108 Celestial Mauve (they're book ending the image). We're not getting that bright tomato red or the browny mauve. If you like how divine that lineup looks and would like to replicate it for yourself, I'm sure you'll be able to bag the other pair online once the collection launches.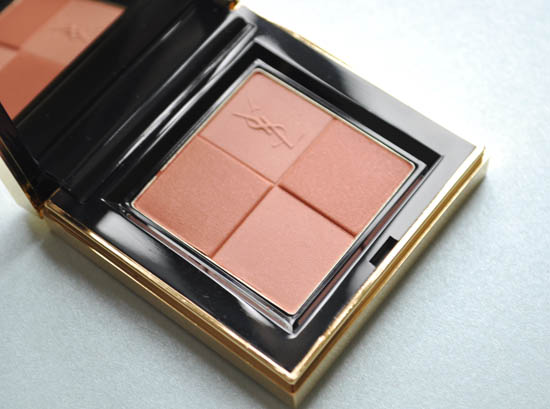 Now, blusher: I have one of the six. This is Blush Radiance in 01, €40, and it's a tawny browny-peach which mixes matte and lightly shimmery powders. I didn't swatch this one, but I do have a lovely pic of the lot together, scroll!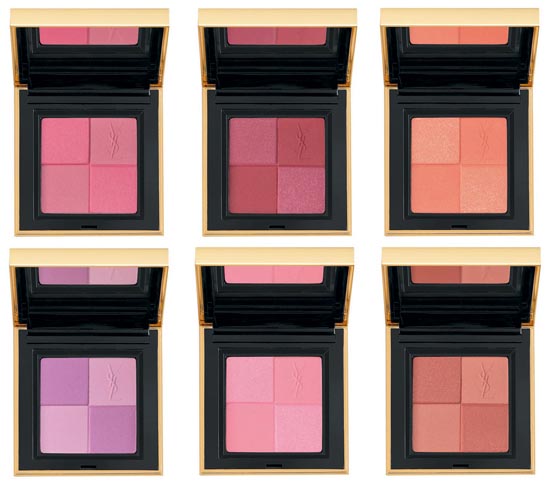 I want them all, lined up like this, and mounted on my wall. Like a sweet shop of blush, ready for me each morning depending on my mood.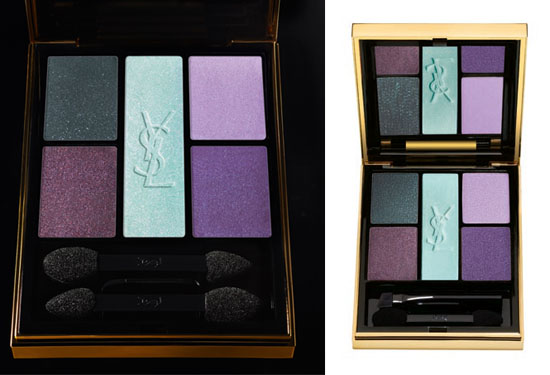 There's just one of the brand's lovely Ombres 5 Lumieres in this collection and it's number 11 Midnight Garden. A collection of knock-out purples plus a deep teal and a turquoise, oh God this is beautiful. At €57, it's also incredibly expensive. I'm not sure if I did spend all that money on it that I could force myself to use it considering the price. I might have to get it bronzed for posterity instead. But sweet divine it's a fabulous-looking piece of kit, isn't it?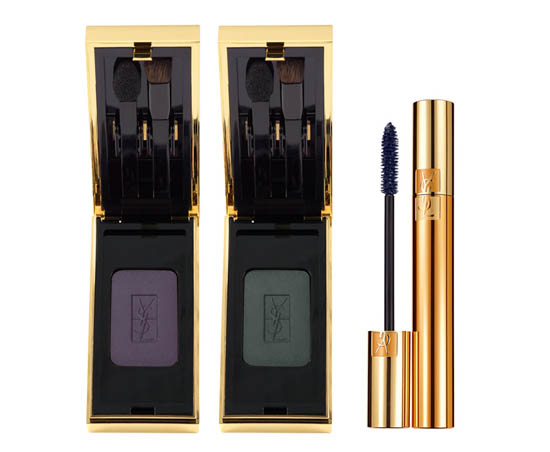 More for eyes: there are two Ombre Solos in 18 Deep Night Purple and 19  Velvet Green for  €28 each and Faux Cils is always part of the lineup.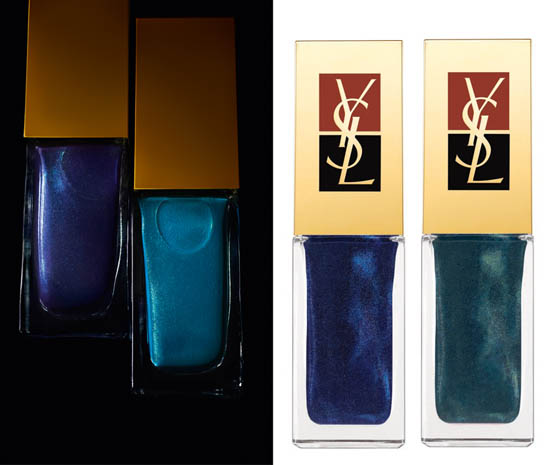 Nails are the last knock-out. Two La Laque's land and both are stunning. €24 each is the damage for 044 Moonlight Blue (left) and the kinda-sorta Game of Thrones-named 043 Wintergreen (right).  I've got 043. Here's what it looks like in real life: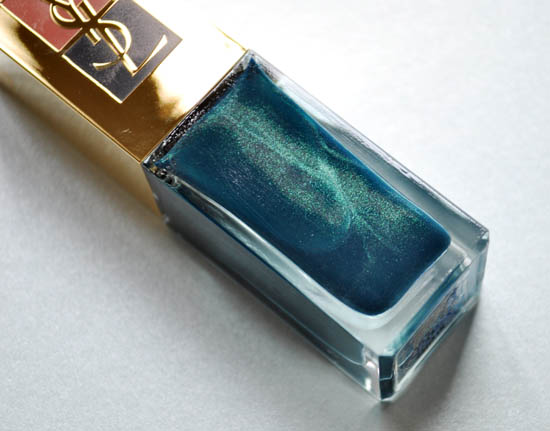 OH WIBBLE.
This is actually a three coater based on my quick two finger test below, but I forgive it.  I completely exonerate it from all blame and it's the exception that proves my fussy can't-be-bothered-with-more-than-two-coats rule.  So pretty.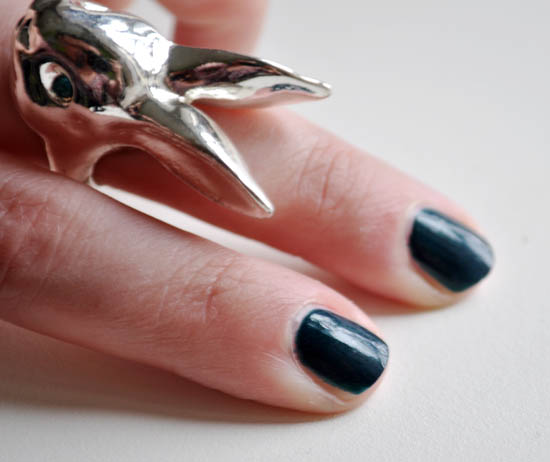 Advertised
This ain't a great shot - I snapped it very quickly and will try to do a better one soon, but Wintergreen is lovely on. A deep, dark shade with very subtle shimmer, it's gonna be an autumn knock-out.
So, that's yer lot from YSL for the new season. You've got about a month to get saving your pennies - are you wishlisting any of the above?