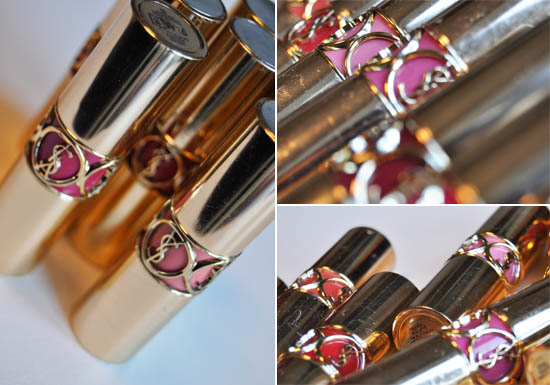 Ok, so they're not the longest lasting lipsticks I've ever tried and they cost an arm and a leg at about €31 a go, but Yves Saint Laurent's Rouge Volupte lipsticks have captured my fickle heart as my absolute favourite lipstick line.
Why? Well, I've written about my love of them before but here it is in a nutshell: cos they're creamy, dreamy, and not one bit shimmery (though there is a new iteration, Volupte Perle, to satisfy shimmer fans).  Application's a cinch thanks to the slim bullet, they wear extremely comfortably and are completely opaque on the lips, being absolutely packed with pigment. The finish is satin with a light sheen.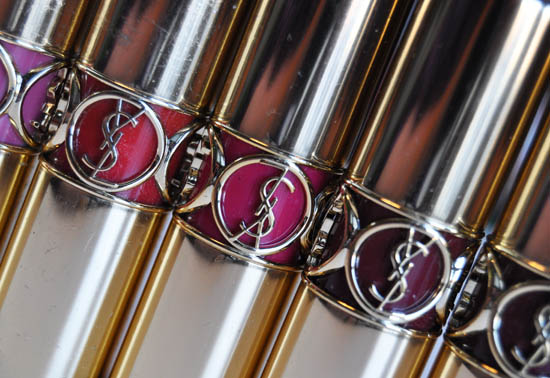 The icing on the cake is that gorgeous gold metal packaging. Swit-bloody-swoo, eh? Yeah, it's OTT. Yeah, I like that. I love the logo cage sitting over the shade guide. I adore the fact there's a little mirror on the top of the lid so you can apply as and when.  I like every single thing about these casings except for the fact that they scratch and mark really easily - but that's an issue YSL needs to address across its entire line, I reckon.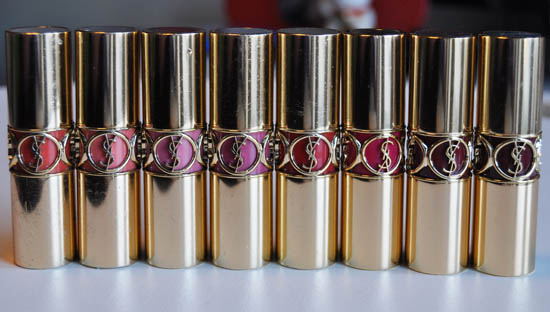 I've been collecting these over the past couple of years as they've arrived as samples from the brand, and while there are a lot more shades on offer than the eight I keep and use, these are the ones that float my boat and which I use regularly. I'm also pretty sure I have a few more lurking in pockets and handbags too. But hey, we've enough to be getting on with, eh?
So, what's what? From left to right I have 15 (Extreme Coral), 30 (Peche Faubourg), 19 (Frivolous Pink), 9 (Caress Pink),  18 (Red Taboo), 11 (Rose Culte), 12 (Forbidden Burgundy), 22 (Exquisite Plum). These pretty much fill my criteria for bright, bold shades and there are a couple of daytime pinks in there as well.
Closeups are below.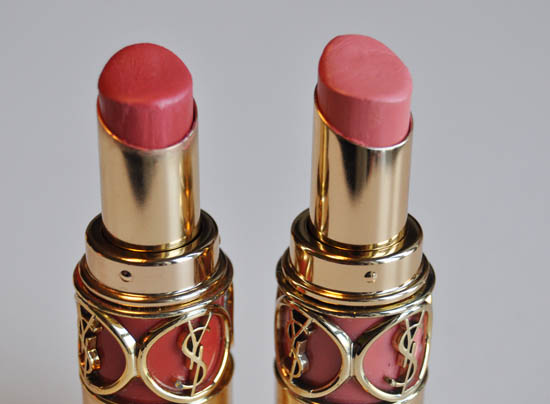 Extreme Coral and Peche Faubourg.
Advertised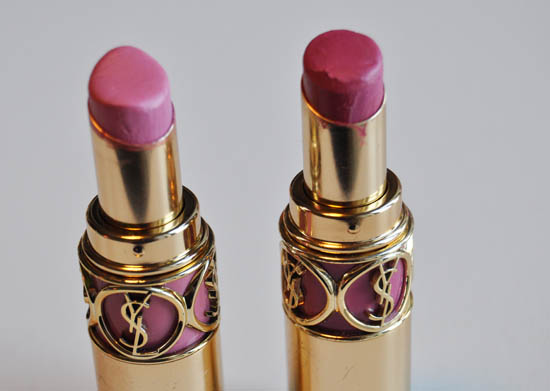 Frivolous Pink and Caress Pink.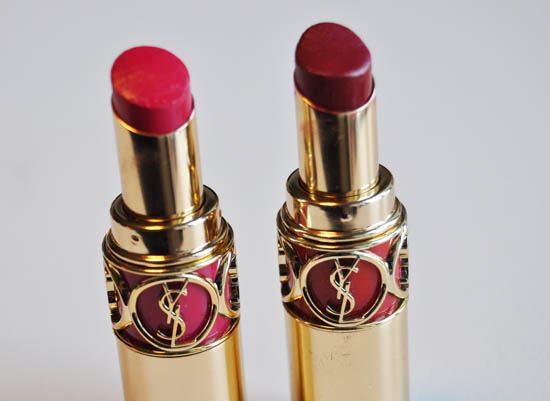 Red Taboo and Rose Culte.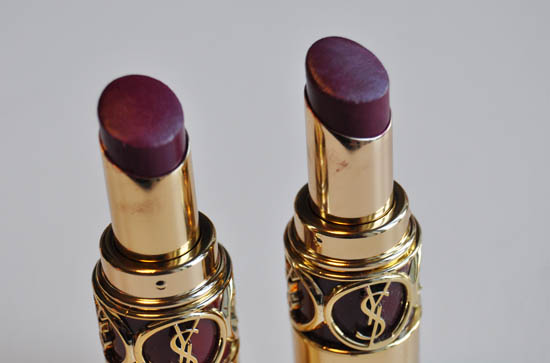 Forbidden Burgundy and Exquisite Plum.  The first six shades are the ones I use the most; the darks are at the end of my comfort zone in general, being quite pale and black/brown haired, I can't really get away with them without looking a lot like an Emily Strange extra. Nice occasionally, though.
And here are the swatches.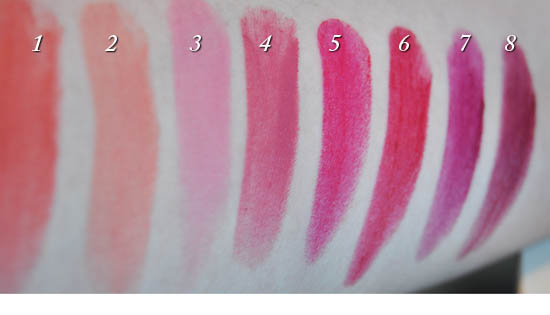 15 (Extreme Coral)
30 (Peche Faubourg)
19 (Frivolous Pink)
9 (Caress Pink)
18 (Red Taboo)
11 (Rose Culte)
12 (Forbidden Burgundy)
22 (Exquisite Plum)
So, is there anything bad about these fellers? Well, price is a factor and puts them out of the reach of many. The other thing is that because they are so soft and creamy, they are prone to breaking off from the base. That's actually only happened with one of mine so far, and I've kept it at bay with the others by not winding them up too far.
Advertised
Have you got any YSL Rouge Volupte lipsticks? If so, what do you think of 'em?